Moss v. The Pennsylvania State University
Zara Moss was a four-time All-American athlete on Penn State's Division I fencing team, and a former Olympic prospect But she was forced to give up the sport she loved. Why? Because for years, Penn State ignored gender-based harassment and abuse by its head fencing coach, Wieslaw Glon. Zara sued Penn State and Glon in federal court and is represented by Public Justice, Cooper Elliott, LLC, and Robert Pierce & Associates, P.C.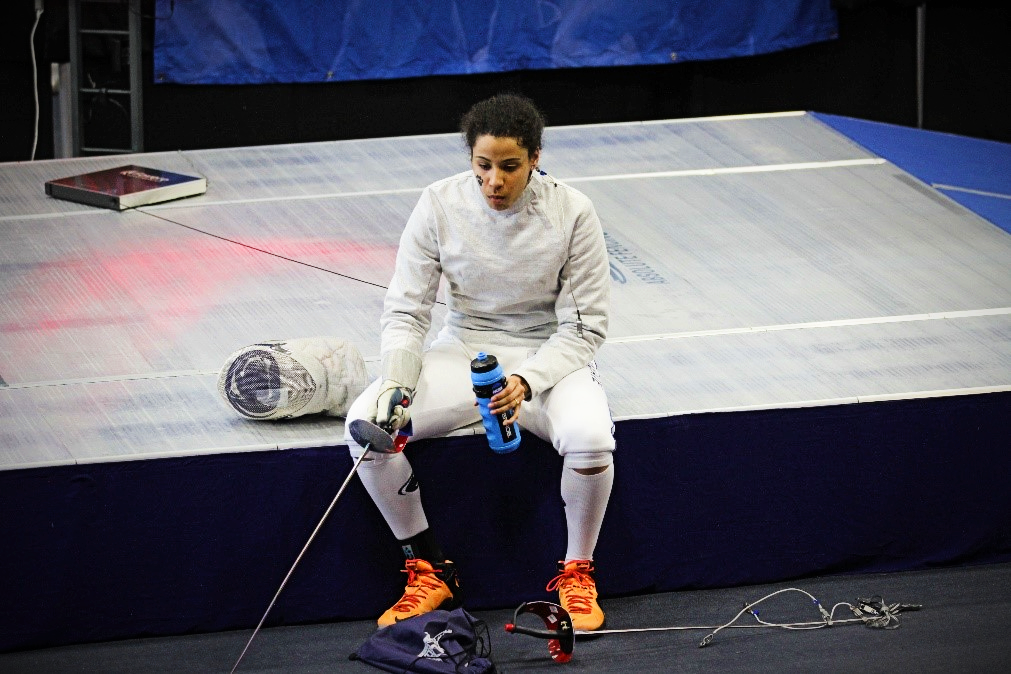 Zara started fencing when she was seven years old. She went to Penn State on an athletic scholarship and ranked among the top college fencers in the country while there. But off the fencing strip, coach Glon made her college experience a nightmare. He consistently harassed women fencers in a way he didn't treat the men fencers. He hounded the women fencers about their weight, believing that women should always be thin. When he thought they fenced poorly, he said it was because they were on their periods or "needed a boyfriend." And when women fencers told him they were injured, he brushed them off as overly dramatic or hormonal and told them to keep fencing.
Zara grew to hate the sport she once loved. She developed an eating disorder, anxiety, depression, and PTSD. She also suffered physical injuries. In her freshman year, coach Glon forced her to fence without equipment and caused serious cuts and bruises, even after she begged to wear her padding. In her senior year, Glon forced Zara to fence through a dangerous leg injury and prevented her from getting treatment. Zara's injury grew so painful that she couldn't walk to class.
In the spring of her senior year, Zara reported Coach Glon's sex-based harassment to Penn State officials. They told her that she was not the first to complain about Glon. But they also told her not to "rock the boat" before the NCAA championships, and to come back later. When Zara followed up, the officials told her it was unlikely that Glon would be removed as coach — telling her, "It's hard to find fencing coaches." After that meeting, Zara never heard from Penn State again about the issue.
With nowhere else to turn, Zara stopped fencing entirely. To avoid Glon, she turned down a scholarship that would have allowed her to fence for another year at Penn State.
Zara sued Penn State and Glon in April 2022. She alleges that Penn State knew about Glon's harassment but failed to take action to remedy it, violating Title IX. Title IX is the federal civil rights law that prohibits sex discrimination in education. But the court dismissed the case, concluding that Zara needed to identify additional acts of harassment that occurred after she complained to the school. The court gave Zara an opportunity to amend her complaint to further support her allegations.
In March 2023, Public Justice joined the case and filed the amended complaint for Zara. The amended complaint makes clear that Glon continued to deny Zara access to medical treatment after she complained, and she continued to lose educational benefits. It also alleges that Penn State's indifference to Zara's experience was not an isolated incident: it reflected a longstanding and systemic problem at the university, and violated Zara's rights under both Title IX and the United States Constitution.
We await the defendants' responses to the amended complaint.