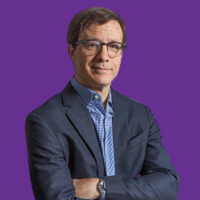 F. Paul Bland, Jr.
Executive Director
F. Paul Bland, Jr., Executive Director, manages and leads Public Justice's legal and foundation staff, guiding the organization's litigation docket and other advocacy.
Paul has argued and won more than 40 cases that led to reported decisions for consumers, employees or whistleblowers, including one victory in the U.S. Supreme Court, and has won one or more cases in six of the U.S. Courts of Appeals and the high courts of ten different states. Paul's Twitter handle is @FPBland.
Paul has worked with the organization since 1997, as a staff attorney until becoming Executive Director in 2014. He has presented at more than 100 continuing legal education or professional conferences in more than 25 states; has testified in both houses of Congress, several state legislatures and administrative agencies; has been quoted in more than 100 periodicals throughout the country and has appeared in several radio and TV stories. Most recently, Paul successfully argued before the Supreme Court in Home Depot, U.S.A. v. Jackson, 139 S. Ct. 1743 (2019) (neither the general removal statute nor the Class Action Fairness Act permits removal to federal court by a third-party counterclaim defendant).
Recognition of Paul from other organizations includes:
In 2006, named recipient of the National Consumer Law Center's Vern Countryman Award, which "honors the accomplishments of an exceptional consumer attorney who, through the practice of consumer law, has contributed significantly to the well being of vulnerable consumers."
Recipient of The Pound Institute's 2017 Appellate Advocacy Award, "which strives to recognize excellence in appellate advocacy in America and those who achieve it."
In 2016, he received the Justice Janie L. Shores Trailblazer Award from the Litigation Counsel of America.
In 2013, he was the recipient of the Maryland Consumer Rights Coalition's "Legal Champion" Award.
In 2010, he received the Maryland Legal Aid Bureau's "Champion of Justice" Award.
Paul is a former co-chair and member of the Board of Directors of the National Association of Consumer Advocates.
He was also the 2002 San Francisco co-Trial Lawyer of the Year and the 2001 and 2009 Maryland Trial Lawyer of the Year.
Paul successfully argued several appeals where courts rejected claims that various federal laws preempted state laws that would benefit consumers: Aguayo v. U.S. Bank, 653 F.3d 912 (9th Cir. 2011) (National Bank Act did not preempt state debt collection law); Epps v. JPMorgan Chase Bank 675 F.3d 314 (4th Cir. 2012) (National Bank Act did not preempt state debt collection law); Singh v. Prudential Health Care Plan, Inc., 335 F.3d 278 (4th Cir. 2003), cert. denied, 540 U.S. 1073 (2003) (claims under Maryland HMO Act were within ERISA's Savings Clause and did not conflict with ERISA's Enforcement Clause); Ting v. AT&T, 319 F.3d 1126 (9th Cir. 2003), cert. denied, 124 S. Ct. 53 (2003) (Federal Communication Act does not preempt state contract law); McKee v. AT&T, 191 P.3d 845 (Wash. 2008) (same); Sweeney v. Savings First Mortgage, 897 A.2d 1037 (Md. 2005) (federal law does not preempt state statute limiting mortgage brokers' fees); and Wells v. Chevy Chase Bank, 832 A.2d 812 (Md. 2003), cert. denied, 541 U.S. 983 (2004) (Home Owners Lending Act does not preempt state contract law claims against credit card issuer).
Paul has also argued and won several appeals where courts limited abuses of mandatory arbitration clauses: A-1 Premium Acceptance, Inc. v. Hunter, 557 S.W. 3d 923 (Mo. 2018) (loan contract precluded appointment of a substitute arbitrator for the organization named in the mandatory arbitration clause; original organization stopped handling cases due to corruption investigation), Lee v. Intelius, Inc., 705 F.3d 1129 (9th Cir. 2013) (arbitration clause not enforceable where "even an exceptionally careful consumer would not have understood" that they were agreeing to arbitration by clicking on icon on website); Murphy v. DirecTV, Inc., — 724 F.3d 1218 —-, (9th Cir. July 30, 2013) (non-party to arbitration clause was not entitled to enforce it against consumer); Gibson v. Nye Frontier Ford, Inc., 205 P.3d 1091 (Ak. 2009) (selective appeal provision unconscionable; case would only be sent to arbitration if employer would pay all substantial costs of arbitration); Cordova v. World Finance Corp., 208 P.3d 901 (N.M. April 29, 2009) (one-sided arbitration provision unconscionable); Toppings v. Meritech Mortgage, 569 S.E.2d 149 (W.Va. 2002) (co-argued with Dan Hedges of Mountain State Justice) (where a lender's arbitration clause designates an arbitration forum that is paid through a case volume fee system, and the arbitration forum's income is dependent on continued referrals from the creditor, this so impinges on neutrality and fundamental fairness that the clause is unconscionable and unenforceable); Raymond James Fin. Servs., Inc. v. Saldukas, 896 So.2d 707 (Fl. 2005) (broker waived right to compel arbitration, even though investor proved no prejudice); Lewallen v. Green Tree Servicing, LLC, 487 F.3d 1085 (8th Cir. 2007) (also finding waiver of right to compel arbitration by a lender).Larkin v. New Century Auto Sales Inc., No. 12-13917, 2014 WL 29119, 2014 U.S. Dist. LEXIS 350 (E.D. Mich. Jan. 3, 2014) (arbitration agreement was not validly formed under Michigan law, because it violated the state's "single document rule" for retail installment sales contracts).
Prior to the U.S. Supreme Court's decision in AT&T Mobility v. Concepcion, Paul had argued and won a number of appeals where courts struck down contract terms banning consumers from bringing class actions, including: Ting v. AT&T, 319 F.3d 1126 (9th Cir. 2003), cert. denied, 124 S. Ct. 53 (2003) (also striking from AT&T's arbitration clause secrecy term and terms imposing excessive costs upon consumers); Homa v Am. Express Co., 558 F3rd 225 (3rd Cir. 2009); Discover Bank v. Superior Court of Los Angeles County (Boehr), 113 P.3d 1100 (Cal. 2005) (co-argued with co-counsel Brian Strange); Scott v. Cingular Wireless, 161 P.3d 1000 (Wash. 2007); Fiser v. Dell Computer Corp., 188 P.3d 1215 (N.M. 2008) (argued as amici, co-argued with plaintiffs' counsel Austin Tighe).
His other successful oral arguments include the following decisions:
United States v. United States ex rel Thornton, 207 F.3d 769 (5th Cir. 2000) (relators under qui tam provisions of the False Claims Act are entitled to receive a statutory share of the value of some non-cash proceeds of a settlement between the U.S. and the defendants).
Dua v. Comcast/Harvey v. Kaiser, 805 A.2d 1061 (Md. 2002) (statute that retroactively stripped consumers of accrued cause of action violated several provisions of state constitution).
Riemer v. Columbia Medical Plan, 358 Md. 222, 747 A.2d 677 (Md. 2000) (unanimously holding that the Maryland HMO Act prohibits HMOs from pursuing members for subrogation of recoveries members receive from third parties, on the grounds that HMOs offer pre-paid care and may not charge consumers a second time for such care.)
Rhodes v. R+L Carriers, Inc., 491 Fed. Appx. 579 (6th Cir. 2012) (employment discrimination claim pled with sufficient specificity to meet Iqbal standards)
Chisolm v. TranSouth Financial Corp., 184 F.R.D. 556 (E.D.Va. 1999) (certifying class in RICO case involving repossession car churning scheme)
Paul is a 1986 cum laude graduate of Harvard Law School and a 1983 magna cum laude graduate of Georgetown University, where he received a B.A. in Government. Prior to coming to Public Justice, Paul was Chief Nominations Counsel to the U.S. Senate Judiciary Committee, and worked for nearly seven years with Kieron F. Quinn in Baltimore, Maryland, where he handled consumer and toxic tort class actions, prosecuted qui tam suits and defended libel suits.