A Special Message from Monopoly Man!
by Monopoly Man
(aka Amanda Werner, Campaign Strategist)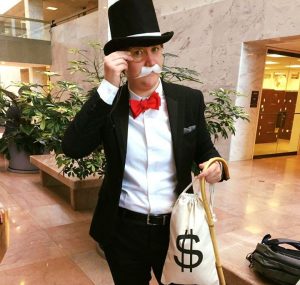 Trump appointee Mick Mulvaney famously slandered the CFPB as a 'sick, sad' joke – but today, the joke is on him.
That's right: I'll be on Capitol Hill today to welcome Mulvaney to his first-ever Senate hearing as Acting Director of the CFPB!
For the first time since claiming the title of Director at the Consumer Financial Protection Bureau, Mick Mulvaney will (finally) face questions from the Senate Banking Committee on his "interim" reign. He'll have to answer for taking the one agency designed to protect Main Street and gutting it to please his donors over on Park Place: bringing enforcement and supervision of big banks to a grinding halt, dropping investigations into payday lenders, and doing everything in his power to give the next Equifax or Wells Fargo a get-out-of-jail-free card.
Since he has taken these drastic actions without going through a confirmation process, showing up for a few hours today is literally the least Mick could do. But he won't be the only Wall Street darling in attendance.
After all the fun I had trolling the former CEO of Equifax at a hearing last October – I'm looking forward to making a surprise appearance to offer support to a man who has done so much, in so little time, for Rich Uncle Pennybags and his moneyed friends.
Watch what happens live at the hearing, and follow the Public Justice Twitter account for updates directly from yours truly (also known as Public Justice Campaign Strategist, Amanda Werner).
As always, my friends at Public Justice are fighting back, and I'm proud to be part of that work. We're pushing to make sure Congress doesn't stop the CFPB's sweeping payday lending reform from taking effect, and we're national leaders in litigation to keep consumers from having disputes forced into arbitration and to expose illegal lending schemes.
At today's hearing, we will expose the fact that only difference between Mick Mulvaney and a Wall Street scammer is a cheap suit! 
P.S.: While I may be known as Rich Uncle Pennybags, Public Justice definitely isn't! We take on huge corporations, banks and other fraudsters on a shoestring budget. But you can help out with this David vs. Goliath battle by throwing a few of your pennies our way. Click here, and make a special, tax-deductible contribution in support of our work. We'll use your gift to keep holding people like Mick Mulvaney accountable!