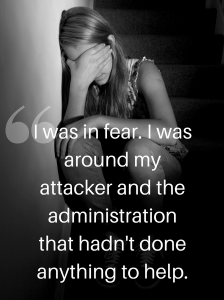 In May, the Washington Post reported on Public Justice's latest federal Title IX lawsuit against Fairfax County, Virginia schools. Fairfax is one of the largest school districts in the country and bills itself as a model for other schools across the nation.
But as our lawsuit shows, Fairfax is actually the model for what school districts shouldn't do. That's why we're suing on behalf of a high school student who is courageously speaking up and demanding change. When our client was sexually assaulted on a school trip, school officials did nothing. But she's determined to make sure Fairfax schools do something to protect other young people in her situation.
This is not the first time that Fairfax County Schools has come under fire for failure to properly handle sexual harassment and sexual assault claims. But we need to make sure this is the last. Public Justice is representing the family and standing up to make sure this student gets the support she needs and the education she deserves.
When schools fail to protect our children, Public Justice intervenes to seek justice for victims and their families, and works with school districts to improve their policies and procedures and train their employees properly. Help us protect some of our most vulnerable young people, and stand with student survivors of sexual assault to demand Fairfax County Public Schools take action now.