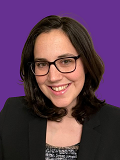 Education
Georgetown Law School
Georgetown University
Macalester College
Bar Admissions
District of Columbia
Ellen Noble
Budd Attorney
Ellen Noble is the Budd Attorney at Public Justice where she litigates high-impact public interest appeals. Her practice covers a wide range of issues, including access to justice, civil rights, workers' rights, consumer protection, constitutional law, and court secrecy.
Ellen has briefed and argued appeals and dispositive motions in state and federal courts across the country. Her recent and ongoing cases include:
Lyons v. PNC Bank, 26 F.4th 180 (4th Cir. 2022): Argued and won an appeal and cross-appeal in the Fourth Circuit concerning the scope and retroactive application of the Dodd Frank ban on predispute arbitration agreements in mortgage lending. The court held, for the first time, that the FAA does not preclude courts from exercising pendent appellate jurisdiction over orders compelling arbitration. Argument | Opinion
Fedor v. United Healthcare Inc., 2022 WL 1073444 (10th Cir. April 11, 2022): Lead counsel in a successful Tenth Circuit appeal in a case brought on behalf of healthcare workers under the Fair Labor Standards Act. Opinion
Food & Water Watch v. Smithfield (D.C. Superior Court): Lead counsel in case seeking to hold a multinational meat processing company responsible for misrepresenting worker safety conditions and the status of the nation's meat supply to consumers during the COVID-19 pandemic. Now This Interview | Case Brief
Morgan v. Sundance, Inc., 142 S.Ct. 1708 (2022): Co-counsel in U.S. Supreme Court victory on behalf of taco bell workers where Court held that courts cannot craft rules that favor arbitration agreements over other types of contracts. Opinion
Lindenbaum v. Realgy, LLC, 13 F.4th 524 (6th Cir. 2021): Argued and won unanimous Sixth Circuit victory reversing district court and holding that the Telephone Consumer Protection Act's robocall ban was constitutional and enforceable between 2015 and 2020, protecting hundreds of thousands of consumers' statutory claims. Law360 called it "a major blow to companies' argument that the national robocall ban doesn't apply to calls made during the five years that government debt collectors were exempt from the law." Argument | Opinion
Moore v. LaSalle Management (5th Cir.): Appellate co-counsel in case on behalf of the surviving family members of Erie Moore, who was beat to death by guards at a for-profit prison in Louisiana. Developed and briefed novel argument for holding private prisons vicariously liable for employee conduct under 1983. Case Brief
Doe v. Gwinnett County School Board (11th Cir. 2021): Appellate co-counsel in suit on behalf of a girl of color suspended by her high school after she reported that she had been raped by a white classmate. Appeal concerned legal standards for sex discrimination and retaliation under Title IX. Case settled after filing of opening brief. Case Brief
Viking River Cruises Inc. v. Angie Moriana, 142 S.Ct. 1906 (2022): Lead counsel for amicus brief arguing that representative actions—unlike class or collective actions—do not interfere with the fundamental attributes of arbitration and thus California's prohibition on the waiver of representative actions is not preempted by the Federal Arbitration Act. Brief
Hunstein v. Preferred Collection and Management Services, Inc. (11th Cir. 2021) (en banc): Lead counsel for amicus brief on behalf of Public Justice, the National Association of Consumer Advocates (NACA) and the National Consumer Law Center (NCLC) defending disclosure of private debt information in violation of the FDCPA as concrete injury sufficient to establish Article III standing. Brief
Home Depot USA v. Jackson, 139 S. Ct. 1743 (2019): Co-counsel in U.S. Supreme Court victory holding that third-party counterclaim defendant cannot remove class action to federal court. Litigation team received 2020 Pound Institute Appellate Advocacy Award. Opinion
In addition to litigation, Ellen regularly speaks on access to justice issues like Article III standing in the wake of Ramirez v. TransUnion, forced arbitration, and court secrecy at conferences and CLEs, and has testified before the California state legislature on ensuring open access to the courts during the COVID-19 pandemic. She also monitors proposed changes to the Federal Rules of Civil Procedure and participates in the rulemaking process advocating for fair, equitable rules that promote access to justice.
Before coming to Public Justice, Ellen clerked for Judge Albert Diaz on the United States Court of Appeals for the Fourth Circuit and Judge John D. Bates on the United States District Court for the District of Columbia.
She graduated magna cum laude from Georgetown University Law Center where she received the Trial Lawyers Award for her appellate advocacy in the Appellate Courts Immersion Clinic and was the Senior Articles Editor of the Georgetown Law Journal. Ellen also holds a Masters in Security Studies from Georgetown University's School of Foreign Service and received her B.A. in Philosophy and Political Science from Macalester College.
She is a member of the District of Columbia Bar. She is also admitted to the bars of the U.S. Supreme Court; U.S. Courts of Appeals for the First, Third, Fourth, Fifth, Sixth, Ninth, Tenth, and Eleventh Circuits, the D.C. Circuit, and the U.S. District Court for the District of D.C.