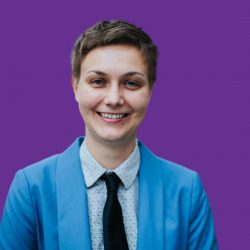 Jacquelyn Oesterblad
Skadden Fellow
Jacquelyn Oesterblad is a Skadden Fellow in the Debtors' Prison Project, where she litigates cases related to the criminalization of poverty and homelessness. Jacq's work is particularly focused on the fines and fees impacting unhoused people in her home state of Arizona.
Jacqui received her J.D. from Yale Law School. In law school, she worked in the Housing Clinic, Free Exercise Clinic, and HAVEN Medical-Legal Partnership, as well as on practicum projects supporting the decriminalization of sex work, the rights of incarcerated transgender people, and capital appeals. Jacq was also the president of OutLaws and a graduate council member at the St. Thomas More Center. She spent her summers at the ACLU National Prison Project and the Promise of Justice Initiative.
Before law school, Jacqui received her B.A. and B.S. from the University of Arizona and taught middle school social studies.