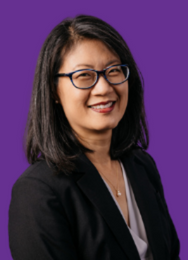 Victoria W. Ni
Vice President of Finance
Victoria W. Ni, Vice President of Finance, is based in the Oakland, Calif., office of Public Justice. Prior to her current role with the organization, Vicky litigated a wide range of cases focused on protecting and ensuring the rights of consumers, workers, victims, and individuals with disabilities; free speech; and equal opportunity for women in athletics and in the workplace. She has also accepted increasingly senior roles in the management of the organization and was named Managing Attorney in October 2014 and Deputy Director in August 2017.
In her current role, Vicky ensures day-to-day operational, infrastructural, and financial efficiency of all parts of the organization to fulfill and advance its programmatic, fundraising, and communications functions. She has managerial responsibility for finance, accounting, human resources, information technology, and other administrative areas.
With a B.S. in broadcast journalism and a B.A. in international relations, Vicky graduated summa cum laude from Boston University in 1992. She graduated cum laude from New York University School of Law in 1995. While at NYU, she served as staff editor of the Annual Survey of American Law and president of the Asian Pacific American Law Students Association. After clerking on the United States Court of Appeals for the Sixth Circuit, she was an associate at two New York law firms, Paul, Weiss, Rifkind, Wharton & Garrison and Reboul, MacMurray, Hewitt, Maynard & Kristol (later part of Ropes & Gray). While in private practice, Vicky handled complex commercial litigation matters as well as public interest cases regarding the constitutionality of school voucher programs and the use of statistical sampling in the decennial census.