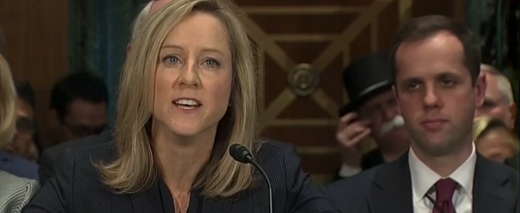 Full Senate to Vote on CFPB Director Nominee This Week
Kraninger remains wildly unqualified; Public Justice urges Senators oppose her nomination
Kathy Kraninger's nomination to be permanent director of the Consumer Financial Protection Bureau is due for a vote next week, and Public Justice remains firmly opposed. Kraninger is not only unqualified for the job, but has indicated that she will actively work to stymie and dismantle the Bureau, following in the footsteps of her mentor, Mick Mulvaney, the current interim director.
When pushed by Democrats on the Senate Banking Committee, Kraninger admitted that "she had no direct experience investigating or bringing legal actions against financial firms." In fact, Kraninger's sole claim to be qualified to head the CFPB is her management experience in government, primarily at the Office of Management and Budget, where she consistently demonstrated poor judgement and has been evasive about her tenure. As Senator Elizabeth Warren stated, Kraninger "is refusing to describe her role in two very public management failures because she knows it would destroy her case for her nomination," namely the handling of the family separation policy at the border and the response to Hurricane Maria in Puerto Rico. Warren also released a report stating that "the entire case for her nomination rests on her purported management abilities. Yet a close look at her record shows consistent mismanagement, often with devastating results for poor and vulnerable people."
At OMB, Kraninger worked directly under Mick Mulvaney, and she has stated that she feels he is doing a good job running the CFPB. In reality, Mulvaney has scaled back the bureau's enforcement efforts, urged Congress to reduce its authority, and made the agency friendlier to the financial services industry. He publicly declared that the CFPB no longer would "aggressively push the envelope" to protect consumers. The New York Times reported that Mulvaney was planning to suspend the bureau's routine examinations of lenders for violations of the Military Lending Act, which protects service members and their families from predatory lending and other financial fraud. He has withdrawn pending cases against payday lenders and generally reduced enforcement efforts against them: after receiving tens of thousands of dollars in campaign donations from payday lenders when he was in Congress.
The CFPB is perhaps the most important government agency for consumer protection, and it is essential that it be headed by someone qualified and committed to its mission. It deserves better than Kathy Kraninger. Call your Senator at (202) 224-3121 and tell them to vote NO on Kraninger's nomination.