November 15, 2017
In
Blog
Public Justice Statement on CFPB Director Richard Cordray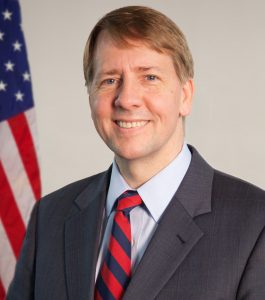 Earlier today, Richard Cordray, Director of the Consumer Financial Protection Bureau (CFPB), announced he will be stepping down from the agency at the end of the month.
Public Justice's executive director, Paul Bland, issued the following statement in response to Cordray's announcement:
"Director Cordray has been one of the most tenaciously effective watchdogs in recent memory, and has been a great ally in Washington for American families. He leaves tremendous shoes to fill, and much work yet to be done. President Trump would be wise to heed the bipartisan counsel of voters who have overwhelmingly approved of the CFPB's mission and work, and nominate an outspoken advocate for consumers and working families who has a proven track record of holding the powerful accountable. The President pledged during his campaign to prioritize the needs of those families ahead of Wall Street's wish list, and this is a key opportunity to deliver on that promise. While some have speculated that prominent CFPB opponents, such as retiring Congressman Jeb Hensarling, may be on the President's radar, selecting such a close ally of Wall Street – at the expense of Americans defrauded by Wells Fargo and ripped off by payday lenders – would be a strategic mistake that is met with the full opposition of every consumer advocate in America."
Public Justice is proud to have been a vocal supporter of the CFPB's efforts to end forced arbitration in the financial industry, and to hold predatory payday lenders and other financial institutions accountable to consumers. For more information on our work in this area, visit our web pages on forced arbitration and consumer rights at www.PublicJustice.net.