Remembering Public Justice Past President Dean Robb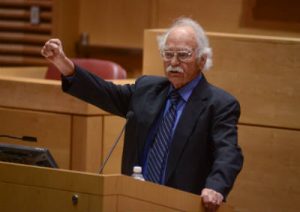 by Michael Pitt
Public Justice Foundation President
Update: A celebration of Dean Robb's life will be held on Saturday, January 19th from 5-7pm at the VFW Hall in Lake Leelanau, Michigan. For more information, click here.
I'm sad to report that Dean Robb passed away in Detroit last evening.
Dean was my mentor and hero. I remember going to federal court in Detroit in the early 1980's to watch Dean take on the FBI for its participation in the murder of Viola Luizzo, a mother with five children living in Detroit who heeded MLK's call to northerners to come to Alabama in 1965 after Bloody Sunday to help secure passage of the federal voting rights act.
Watching Dean taking on the FBI and a hostile judge made me understand that I, as a know-nothing lawyer, should hitch my wagon to Dean's star.
Although Dean lost the trial, Mrs. Luizzo's children adopted Dean as their surrogate Dad. The Luizzo children remained an important part of Dean's life right up to the end. I, too, became part of Dean's life and his legacy.
I spoke with Dean last week about our plans for the Fourth Annual Wayne State Law School's Dean Robb Public Justice Lecture to be held in the Spring of 2019. Dean, as always, had some great ideas and expressed gratitude for Public Justice's continued commitment to the lecture series.
Matthew Robb, Dean's son, posted news of his Dad's passing last night. Matt said:
"December 2, 2018 was the final sunset in an extraordinary life. Dean passed with the sun at 5:05pm this evening holding his family's hands, singing songs in his heart, and beaming love to all those who touched his blessed life.
We are so grateful to everyone who has been there for us with writing, calls, texts and other visits over the past few months and to everyone else who did so in spirit and through love. Because there are so many of you, please hold off on phone calls for a few days.
As he took his final breaths, I gave him a pen to take into the Hereafter and said 'your story will continue to be written forever.' If Dean has helped or inspired you in any way, please consider writing us a letter sharing your story and how Dean was there for you.
What Dean wanted most was to be a good neighbor to all of his fellow human beings and to see us treat each other with love, kindness and respect. Please consider memorializing your story. Stores can be sent to:
PO Box 879
Suttons Bay, MI  49682
or matthewzrobb@gmail.com
Love to all! Thank you for being there for Dean Robb. Stay tuned for updates on a celebration of life."