Vicky Ni is a Public Justice Star!
By Karen Ocamb
Vicky Ni is the wizard every organization outside of Oz hopes to find pulling the levers behind their management curtain. Having served in almost every staff position at Public Justice throughout her more than two-decade career, Ni retired in January to focus on her health. But exemplifying her last full measure of devotion, Ni returned when her beloved legal advocacy organization needed her practical magic to help facilitate unexpected transitions.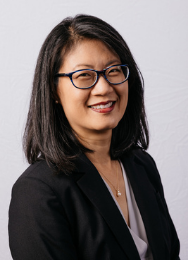 Ni's homecoming was fortuitous, enabling her Public Justice colleagues to honor the champion of justice with the prestigious Star Award.
"I felt a bit awkward receiving the award after I retired," says Ni, now serving as Acting Vice President of Finance. "But it also really validated that I made the right decision to come back and help with the major transitions happening at Public Justice. This award is particularly meaningful to me because it's recognition given by my closest comrades-in-arms over the years.  I've said repeatedly—and I really mean it—that I am very grateful to have such talented, principled, and passionate colleagues.  So, it's a true honor to be selected by them for this award."
Steve Ralls, one of Ni's closest comrades-in-arms, is elated at her return and the richly deserved recognition.
"It is no exaggeration to say that Vicky Ni has left an impact and imprint on every single facet of Public Justice's work," says Ralls, Vice President of External Affairs. "From leading our legal team to streamlining and modernizing our financial operations, providing strategic advice to our governing Board and dotting each 'i' and crossing each 't' in our policies and procedures, her track record at the organization has been extensive and exceptional."
Ralls also praises Ni's leadership. "Part of Vicky's remarkable success at Public Justice is due to her ability to harness what poet John Keats called 'negative capability' – that rare and steely talent for swimming through uncertainties, mysteries and doubts and centering quietly and contentedly among minefields to focus on the best possible outcome, regardless of whether the conundrum at hand is spectacular or mundane. She embodies the belief that 'the work has to be the win' — and she defines 'win' as a collective achievement that lifts all boats."
"Collective achievement" aptly describes Ni's long tenure. One of her first cases as a Staff Attorney at then-Trial Lawyers for Public Justice was a sex discrimination class action lawsuit against Lawrence Livermore National Laboratory, the national security research facility created during the Cold War to ensure global nuclear deterrence.
The lawsuit, filed on Dec. 23, 1998, was brought on behalf of more than 3,000 female employees who said they were denied equal pay and promotional opportunities at "the Lab," managed by The Regents of the University of California for the U.S. Department of Energy. The lawsuit was settled five years later requiring numerous procedural changes, an increase by 1% of class members' base salary and over $10.6 million in damages.
"This agreement not only compensates victims of past discrimination, it also makes sweeping reforms to help level the playing field for women at the Lab now and in the future," co-counsel Ni said in a Nov. 20, 2003 press release. "It's about time the Lab recognized that equal work deserves equal pay and equal promotional opportunities."
Today, the Lab touts its inclusive and diverse workforce.
The last cases Ni worked on before being promoted to Managing Attorney were the successful forced arbitration truck driver cases that led to the Jan. 15, 2019 unanimous US Supreme Court victory in New Prime v. Oliveira, for which Justice Neil Gorsuch wrote the decison. The class action lawsuit involved a dispute between New Prime trucking company and one of its drivers, Dominic Oliveira.
Ni explained the strategy in a March 2016 email to Board and staff.  "Some trial courts, including the lower court here, believe that they need to hold a mini-trial to determine employee status (are they contracts of 'employment'?) in order to know if the FAA [Forced Arbitration Act] exemption applies," Ni wrote. "But the position that we are trying to establish is that employee status under labor statutes doesn't matter – that as a legal matter both independent contractors and employees in the transportation industry are exempt from the FAA because the word 'employ' as used in 1925 in the context of an arbitration statute just means 'to do work for.'  We have done a lot of research on this and believe this to be the correct approach."
"The Supreme Court Just Handed a Big, Unanimous Victory to Workers. Wait, What?" Slate's Mark Joseph Stern wrote, largely crediting Public Justice. "The decision is a remarkable win for labor rights from a court that typically favors corporate interests over working people. And it will allow hundreds of thousands of contractors to vindicate their rights in court, collectively, rather than in costly and unjust arbitration."
Ni is passionate about fighting for the underdog.
Vicky Ni's parents lived in China and Taiwan before immigrating to America. She was born in 1970 in Milwaukee, Wisconsin where her father worked as a statistician for Schlitz Brewing Company. When she was five, the family moved to Louisville, Kentucky for her father's new job with Kentucky Fried Chicken. "There were Chinese families there," she says.
Ni's early life revolved around her mother's Chinese school in their basement with her younger sister and her father's Mahjong parties. At elementary school, she experienced rampant microaggressions and ignorance but no outright bullying. "I was pretty assimilated," she says "Other than my race, nothing stood out, particularly."
High school offered a surprise. "We were a public high school in Louisville, Kentucky, which has student education ranked near the bottom. So, I played Anita in 'West Side Story.' I can't sing — but I loved it. I love theater. If I could do anything, I would do that, if I had a grain of talent."
But Ni knew she was destined for law school. "Reading, writing and editing were my core skills" at Boston University, she says. She picked dual majors of international relations and broadcast journalism that led her to London and a radio job at Voice of America.
Ni interned with the US Commission on Civil Rights in her junior year, working on a report about Asian Americans in the media which "was like a White Paper into the void." she recalls. She also served as staff editor of the Annual Survey of American Law and president of the Asian Pacific American Law Students Association. She graduated summa cum laude in 1992 with a B.S. in broadcast journalism and a B.A. in international relations. She graduated cum laude from New York University School of Law in 1995.
"I realized throughout the course of my college career that fighting for the underdog was important to me," she says. "As I became exposed to more and more privilege, I realized that I needed to use my time on this earth to put a thumb on the scale for the other side."
Ni clerked on the Sixth Circuit Court of Appeals before segueing into private practice. As a junior associate at Paul, Weiss, Rifkind, Wharton & Garrison (E. Jean Carroll's attorney Robbie Kaplan was a senior associate), she filed an amicus brief in a pro bono case before the US Supreme Court about using statistics to come up with a more accurate count for the Census. They lost but it was an important experience.
Ni then went to Reboul, MacMurray, Hewitt, Maynard & Kristol where she worked on another Sixth Circuit amicus brief for a "fairly big stakes case" involving a Jewish organization and school vouchers.
Ni cold called Public Justice from San Francisco where she had moved to be with her now-husband. Executive Director and attorney Arthur Bryant took the call but didn't follow up for six months. She started in September 2000 as the only staff attorney in the Oakland office. When Bryant was later hit by a truck, Ni ran the office with an office manager, a receptionist and a new intern. "Everything was in a tailspin," she says, noting that she managed to keep the small office afloat until Bryant returned a year later.
"I try to let stuff roll off of me and keep a balanced perspective on things," Ni says. "But being diagnosed with stage four cancer has fundamentally changed me and my outlook on life. I did have a realization that I could choose whether or not I carried around all of my frustrations and anger all the time, or if I let some things go and try to live in the moment."
For Steve Ralls, working with Vicky Ni has been a great professional and personal pleasure. "Vicky is extraordinary and, like a star, is a bright illumination around which so many of us orbit. She is made of the stuff that creates whole universes and causes us to look on with wonderment and awe."
Karen Ocamb is the Senior Storytelling Strategist for Public Justice.