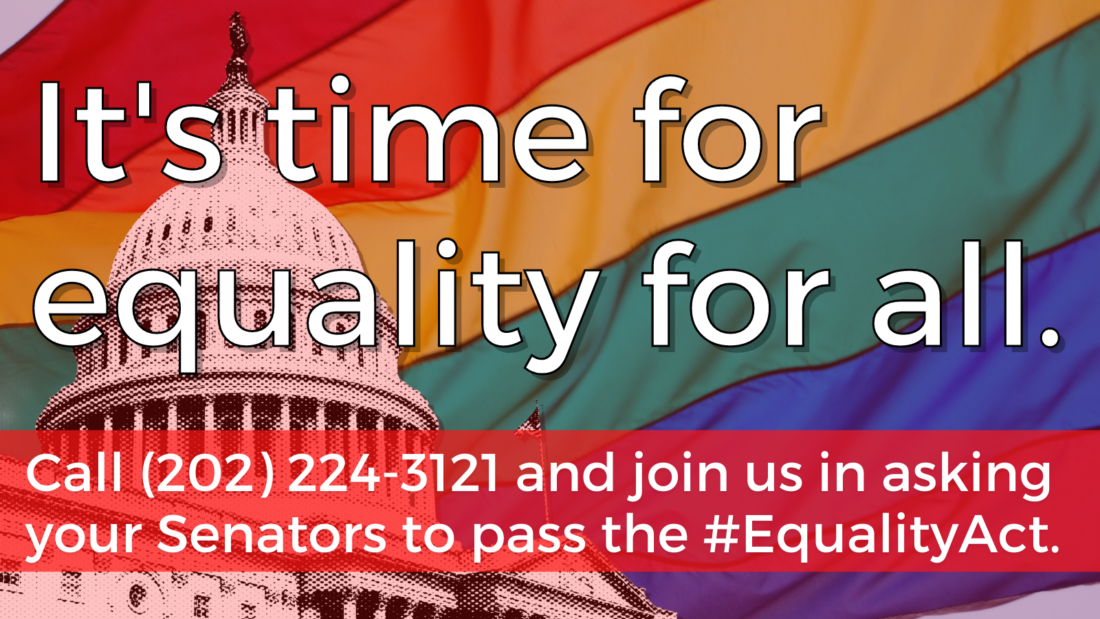 Call Congress: Support The Equality Act
Public Justice is proud to support the Equality Act (H.R. 5), which was originally introduced in both the House and Senate in March 2019. On February 18, U.S. Congressman David Cicilline (RI-01) and U.S. Sen. Jeff Merkley (OR) announced the re-introduction of the bill, which will be up for a vote on the House floor next week.
Now is the time for Congress to take the right step toward ensuring equality for all LGBTQ people and pass the Equality Act.
The Equality Act seeks to secure gender identity and sexual orientation as protected classes under the federal Civil Rights Act and would ban discrimination against LGBTQ people in nearly every aspect of American life, from the workplace to housing and the marketplace. Last year, the Supreme Court's decision in Bostock v. Clayton County established protections for LGBTQ people under federal law, prohibiting discrimination against LGBTQ people in the workplace on the basis that anti-LGBTQ employment discrimination is sex discrimination, however, passage of the Equality Act would take it a step further, and amend the Civil Rights Act of 1964 to prohibit anti-LGBTQ and sex discrimination in public accommodations and federal programs while ensuring that it would be much harder to undo future bans on discrimination.
That's why we're asking Congress to pass the Equality Act—and why you should, too.
Additionally, the Equality Act would expand the definition of public accommodations, including spaces like retail stores, banks, transportations services, and healthcare services. Americans in every state – and regardless of religion, party affiliation, and economic status – support this measure.
The Equality Act is a critical measure that addresses important issues at the heart of Public Justice's mission:
When Congress wanted to protect LGBTQ students, we gave them our support
Through our Gender & Sexual Violence work, we've defended LGBTQ students against harassment and assault in schools
We fought against efforts by the Department of Health & Human Services to erase trans, nonbinary and intersex people.
This is a long-overdue step in combating discrimination against LGBTQ people across every aspect of American life. The Biden Administration has made a promise to the LGBTQ community that passing the Equality Act would be one of its top priorities in the President's first 100 days in office, and we look forward to this critical step toward equality for all. We are proud to support the Equality Act and the rights of all LGBTQ Americans.
Join us in supporting this important legislation by calling (202) 224-3121 and asking your Representatives and Senators to become co-sponsors (or thank them if they already are).