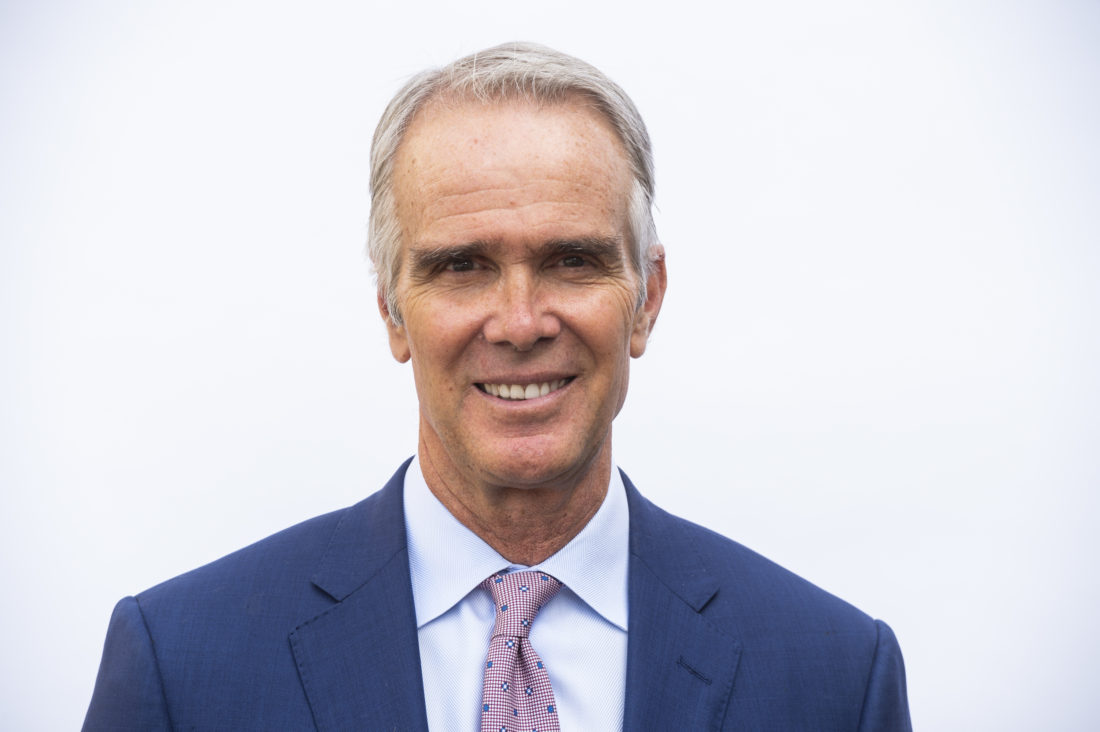 Dan Bryson Named Public Justice President
Bryson Wants To Take On Systemic Oppression as Organization's Leader
By Karen Ocamb, Director of Media Relations
"I feel like I've won the lottery of life," says attorney Dan Bryson, beyond buoyant about being elected the new President of Public Justice. "I'm able to be a member of this organization and to have the time and resources to devote to it. But so many other people struggle. Close to 60 percent live paycheck-to-paycheck, probably even more than that. And so, it's my obligation — as with all the members of the board of Public Justice and the staff — to do all we can every day to try to help those people who have little or no power to try to create a better life for them, to try to find justice for them in the court system. Public Justice does impact litigation. Being that hammer that can bring justice to people is what Public Justice has done so effectively through the years."
Bryson's elevation to president was officially announced at Public Justice's July 21 virtual Gala. He lauded his predecessor Eric Cramer, whose presidency was the first in the organization's history to be conducted completely online during the COVID 19 crisis. And he recognized the tough task at hand.
"This is a critical moment for our country and Public Justice has a pivotal role to play in addressing it," Bryson said. "As [Champion of Justice honoree] Ben Crump's own work shows, attorneys can be an essential part of addressing and ending injustice in America. That's what this organization is all about and every aspect of our work aims to move us forward to a better, more equitable society and justice system."
Bryson was initially introduced to "some cool people" at Public Justice through fellow member Andrew Lemmon during the 2010 AAJ Summer meeting in Vancouver, Canada. He joined shortly thereafter and became enthralled with then-President Jack Landskroner.  "He was having the Fall Public Justice Board Meeting in Cleveland, his hometown, at the Rock & Roll Hall of Fame. Jack was so charismatic and so passionate. I attended that board meeting and the gala that night and I just absolutely fell in love with the organization through Jack's passion and charisma," he says, recognizing that "this is a great opportunity to make a difference."
Landskroner, 53, who was elected President in 2012, passed away on June 19th of pancreatic cancer. Bryson and several other board members attended his memorial service. "He was such a great person, a great advocate for justice," Bryson says. He is dedicating this year of service to Landskroner.
While Bryson, a founding partner at the global law firm of Milberg Coleman Bryson Phillips Grossman, is known for his impressive legal resume and vocal opinions, little is really known about the affable advocate and prominent adversary himself.
Daniel K. Bryson was born on December 3rd, 1960 in Asheville, North Carolina and grew up near Greensboro, N.C.. His father, Dee Bryson, 86, grew up in the deep mountains of North Carolina and his mother Loretta Bryson, 82, grew up in Asheville. After his father returned from the Korean War, he went to college on the GI Bill. After college and marriage, Bryson's father worked for the government as an Administrator for Social Security and Medicare while his mother worked as a school teacher. The family moved around to small towns in the South before landing in Greensboro, North Carolina when Bryson was in eighth grade.
His first experience of injustice occurred outside Atlanta, Georgia, where his family had moved from Asheville. "I have very vivid memories of being in first grade and the deputies bringing a small Black child into our classroom. I was six-years-old wondering what the heck was going on. Alphabetically, his last name must've been close to mine because he sat next to me. We became friends. I learned later on that they were forcibly integrating the school from the Atlanta area," says Bryson. "My parents were not politically active and were very, very good parents. They're very religious, Baptists, church-going. You're nice to everyone. You treat everyone with love and respect."
Bryson wanted to be a doctor and was on the pre-med track at University of North Carolina at Chapel Hill but he hated his hot summer intern jobs at the hospital and didn't enjoy chemistry and biology. Eventually, he got involved in student government and was elected student Senator on campus. He is embarrassed to admit that during this political spell, "I got involved in the student center as a conservative Republican because I just thought that's the way it should be. I realized pretty quickly that was not where my heart was," after being exposed to different viewpoints.
After graduating from UNC in 1983, Bryson enrolled in the Masters of Business Administration program at University of North Carolina/Greensboro where he spent two years getting his MBA and taking political science and business law classes. "I thought: my mind just enjoys this — the intellectual challenge and debating and making logical arguments and trying to win your argument. I finally found something. It's the lucky man who finds himself in some profession that they were meant to be in."
Despite his distaste for Republicans, Bryson went to work for a very Republican law firm that represented railroads and corporations after he graduated from Wake Forest University law school in 1988. "One of the senior partners of the law firm was the mastermind behind the political organization that got Jesse Helms, our terrible Senator, elected year after year," he recalls with a grimace.
But Bryson was "just happy to have a job," having hefty school debt to pay off. He toiled there for eight years until he became too repelled to stay. "I was in my early thirties and I realized I needed to make a change."
Then came a pivotal moment. The firm was retained by an insurance company after a horrific car crash involving a teenager who was killed, as was the driver of the other car he crashed into.
"I went out to the accident scene with the adjuster and I'll never forget the adjuster looking at me going, 'Yeah, I know it was our insurers fault but you need to really try to get us out of this as cheaply as possible,'" Bryson recalls. "I was just absolutely horrified that here was an accident that was caused a hundred percent by this kid who was driving the car, who is now dead and the insurance adjuster is leaning on me to try to settle out, resolve this case as cheaply as possible. It disgusted me. And I was like, 'I can never do another case for an insurance company.' And I never did. There were other cases. We represented Ford Motor Company. These big corporations — they don't care. It's all profit driven. Get them out of the cases as cheap as you can. It's all they care about. And if you do that, they keep sending you work. It was disgusting."
Bryson and five other principals started their own firm in Raleigh, North Carolina where he handled a wide array of complex civil litigation cases for about 14 years, a lot of which "would be often property damage type cases," reminiscent of the tragic condominium collapse in South Florida. "I always felt like my skill was wading into the details of the science or the engineering or the expert test to figure out what made a case tick and know how to win."
In 2011, Bryson formed Whitfield Bryson & Mason and handled class-actions and catastrophic personal injury cases all throughout the Southeast for 10 years. This past January, Bryson cofounded a new national and international firm called Milberg Coleman Bryson Phillips and Grossman to pursue "all manner of plaintiff's cases at the very highest level."
But Bryson "felt a longing that there was something more. I just felt there's got to be more than just handling this particular case here in North Carolina. And I felt within Public Justice, I could do my little part to help bring justice to more people on a national scale."
He was "mesmerized" by the brilliant staff attorneys. "They were fighting the good fight on behalf of trying to reach justice in all these different areas. And I was just absolutely enchanted with it," he says.
"What can I do to do my little part to help this organization?" Bryson asked. He jumped on the membership committee, realizing he enjoyed trying to recruit new members to the organization. "I became pretty good at it," he says. "I'm proud of what I've done. There are so many people who are so much better at evaluating cases and doing a lot of the other things — this has been my little niche."
Bryson sees the arc of Public Justice from its consumer rights origins to fighting for civil rights. "Any discrimination of any type absolutely repels me," he says. In fact, Bryson was "so sickened" by the 2016 anti-transgender "bathroom bill" in North Carolina that, in addition to providing financial support to those opposed to the bill, he commissioned a mural for the block wall outside his office in Raleigh. "There is a big heart right in the middle, like a Valentine heart. And on the sides are a number of arms reaching to try to get to the heart. Some are white, some are Black, some are green — they're all different colors. The clothing on the arms may be female, may be male clothing. You just don't know. But the point is that everyone is just to trying to find love — and why couldn't we be a little bit more accepting as a society?"
Bryson is proud of that wall, which faces a popular restaurant. It's a statement of values in his home town, where he lives with his wife of 34 years, Lynda, and their wire-haired fox terrier, Scout. The couple also has three children — Hunter, 30, a lawyer in his dad's firm, recently married Davis, 28, who works for legal software Litify and wife Lauren, and rising senior Kimberlen, 17, who the Bryson's adopted when she was six after Bryson's sister died.
As Board President during the organization's 40th anniversary, Bryson wants to fulfill three initiatives: 1) continue organizational Diversity, Equity and Inclusion efforts; 2) help promote Public Justice and recruit non-lawyer members; and 3) finish the strategic plan for Public Justice that will help the organization focus on trying to make systemic change in particular areas, such as debtors' prison, environmental, Title IX, and access to justice.
Bryson is a man on a Public Justice mission. "I felt like I wasted a lot of the years of my practice in areas that were not fulfilling," he says. "I am trying as hard as I can to make up for it."
View Dan Bryson's remarks at the Public Justice Gala here: https://youtu.be/6dr3o_jp1F4