Data whiz Tonia Allison receives Huntington Hero Award
By Karen Ocamb, Director of Media Relations
2020 was a dark and deadly year in America. It was a year of heroes and villains, of creative doers and those petrified by fear of COVID-19, the airborne virus that quickly became a fatal pandemic. The data was mind-numbing. Four months after the World Health Organization announced the mysterious novel coronavirus, COVID deaths in the U.S. passed 100,000; by June 10, COVID cases nationwide hit 2 million; by July 16, 75,600 cases of COVID were reported in a single day. On August 17, the Centers for Disease Control and Prevention (CDC) announced that COVID-19 had become the third-leading cause of death as the Trump administration continued to spout misinformation.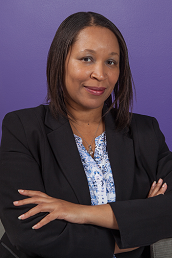 Like other nonprofits, Public Justice wrestled with how to continue its vital work and advocacy during the government shutdown, especially as unscrupulous lawyers used COVID as an excuse to delay and hamper litigation. But Public Justice persisted, turning the 38th Anniversary commemoration on August 6 into the first Virtual Gala & Awards Presentation. Amid the zooming of speeches and video entrees for Trial Lawyer of the Year – the Oscars of the Trial Bar – was a live speech from Tonia Allison, recipient of the new Huntington Hero Award. Huntington Bank conceived the Award in 2019 as a tribute to staff who work behind the scenes fulfilling the organization's mission. With the honor came a $10,000 donation to the Public Justice Foundation in the Hero's name.
Allison, a longtime staffer, was nominated by her colleagues and selected by a small committee who recognized that her work for Public Justice and her volunteer work outside the organization embodied Huntington's pledge of putting "people first."
"This year's recipient, Tonia Allison, has been the quiet and unheralded heart of Public Justice's development efforts for nearly a decade," reads the tribute in the 2020 Program Book.  "Tonia, the organization's Member Services Coordinator, ensures that financial contributions in support of Public Justice's work are recorded, processed and acknowledged, making her an important primary point of contact for all donors. She works tirelessly to make each donor feel connected and invested in Public Justice's mission. Our monthly membership giving program ensures a steady stream of revenue in support of our operations….[Tonia] has played a pivotal role in moving donors who typically contribute by mailed checks to online giving – a critical transition that plays an essential role in mitigating the impact of the current crisis on Public Justice's funding."
In other words, Allison's systemized data processing kept funding flowing into Public Justice coffers when other nonprofits were folding. Whether intentionally or intuitively, Allison's colleagues picked a heroic staffer who quietly stood as a beacon and bulwark to the havoc wrought by the pandemic.
Tonia Allison was born in Maryland in the early 1970s, one of seven siblings raised by a divorced single mother. "It was really fun because you always had someone to play with," she says. "And we always had dogs, cats, frogs, fish. You name it, we had it. For us, it was the best time ever."
As a child, Allison was curious about nature. "And I was really into the arts. I loved to draw. I loved music. I loved theater. Anything that was different."
At some point, she tilted toward science. "It had something to do with 'Star Trek,'" Allison says. "It was just like — wow, I can't believe they can travel to different planets, see different worlds and meet other species. That was so fascinating to me. It was different from what you see every day. One day we'll be able to visit other worlds."
Allison was unphased by the famous interracial kiss between Star Trek Captain James T. Kirk (William Shatner) and Communications Officer Lieutenant Uhura ( Nichelle Nichols)  "That wasn't really an issue to me. I didn't raise an eyebrow at all," she says, given all the other relationships on the show. "That to me was normal."
Allison had dreams in her regular life, too. "When I graduated high school, I was really looking forward to going directly into the job market. I was excited about that because a well-known corporate program was introduced to my college prep class in high school. They took students with the best grades and groomed them for a position right out of high school. That sounded exciting. I didn't get picked, but I wanted to work there because that's all you heard growing up. So instead of going to a 4-year college initially, I went to Strayer Business College."
While attending school, Allison worked part-time at the local library. "I got really interested in books," she says. "I read a lot of books including science fiction which was my favorite at the time— I still had that dream of Star Trek in the back of my mind."
Allison graduated from Strayer and was hired fulltime at the library, working numerous positions over several years, including in the development office. Looking for something different, Allison was hired by the Naval Academy Foundation as a gift processor. "It was still fundraising," she says. "The graduating students contribute to their class projects around the academy such as donating funds to a new building. Whatever their class project selected,  regular funding was coming in that we needed to keep track of along with different vendors who wanted to support the academy.  There was an alumni association within the foundation, as well."
Allison enjoyed working in development with people passionate about their work. "I got to see firsthand how it impacted people," she says, giving her a sense of purpose and advocacy for the cause. "I didn't think of activists as sitting in an office behind a computer."
Allison came to Public Justice in 2010 as a development processing assistant, a job title that has changed as a result of a promotion. "Basically, I maintain the database," she says, " entering donor and gift data,— which also includes payments, pledges, acknowledgement letters thanking people for their gifts, making phone calls, research, maintaining our recurring payment program and performing administrative work for the Foundation. No pressure there."
Allison felt honored to receive the Huntington Hero Award.
"I was really excited. I wasn't expecting it at all," Allison says. "I'm more of a background person. I don't really like all of the bells and whistles but getting that award — I really felt good. I thanked Huntington for the award and especially my team — we cross-train so we can all help each other out, which I think is important. At the end of the day, you know what your job entails, and you know that it's going to do good."
Allison also talked about updating the database. "I'm all about streamlining," she says. "When you're working a database, you've got to have systems put in place. I had the opportunity to contribute to a lot of that and I was able to make some changes. Looking at the way the department was when I first came to where we are now, we've made a lot of progress, so I'm happy about that."
Allison is also happy to now binge-watch the "Star Wars" saga and still be a vital "force" at Public Justice.