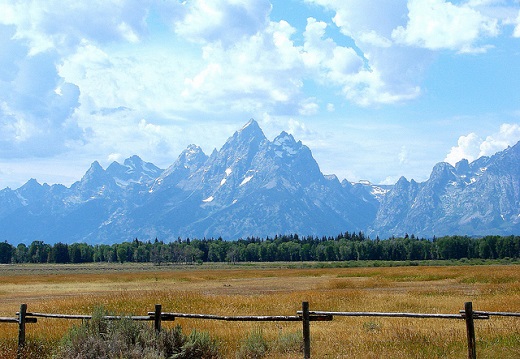 First Round Goes to Citizens in Federal Court Fight Against Wyoming Ag Gag Laws
Photo via Don Graham on Flickr
By Leslie Brueckner
Senior Attorney
In late December, we won the first round in our federal constitutional challenge to Wyoming laws that make it a crime for citizens to gather data about environmental pollution from public land. U.S. District Judge Scott Skavdahl denied the State's motion to dismiss the suit challenging the laws, citing "serious concerns" about the statutes' constitutionality.
The Wyoming laws are similar to the "ag-gag" laws on the books in eight other states, which make it a crime to go undercover in factory farms. Idaho's ag-gag law, which Public Justice challenged as part of a coalition of public interest groups, has already been declared unconstitutional; Public Justice's challenge to North Carolina's law is just getting off the blocks (stay tuned for more news on those fronts).
Whereas most ag-gag laws are limited to activities that go on behind closed doors in factory farms, Wyoming's laws make it a crime to collect any resource data—whether it be pictures of noxious weeds, samples of polluted water, or videos of injured animals–from any private or "open" land in Wyoming without express permission from the owner, if the goal is to report that information to the state or federal government.
Yes, you read that right: The laws in question make it illegal to gather data from private or open land in Wyoming if, but only if, you are doing so in order to let the government know about the wrongdoing.
So let's say you wander onto land in the State of Wyoming and collect resource data (by, for example, taking a water sample from a stream), but don't submit it to any federal or state agency, you would not be prosecuted under the new laws.
But if you take that water sample and submit to the federal Environmental Protection Agency to show that the landowner is violating the Clean Water Act? Bam! You are IN VIOLATION of the new laws and could face up to a year in jail and/or be made to pay a fine of up to $5,000. 
Sound crazy to you? It does to us. It also sounds like an unconstitutional infringement on the right to petition the government for redress of grievances (not to mention the right to free speech—and a violation of a bunch of other laws.)
We sued to challenge the Wyoming ag gag laws in August 2015 on behalf of the Western Watersheds Project, along with the Natural Resources Defense Council, People for the Ethical Treatment of Animals, the Center for Food Safety, and the National Press Photographers, seeking to have the laws struck down under the First and Fourteenth Amendments of the U.S. Constitution, as well as a host of federal environmental laws.
And on December 29, U.S. District Judge Scott Skavdahl denied the State's motion to dismiss the lawsuit, noting that he has "serious concerns and questions as to the constitutionality" of the State's laws. The court was particularly skeptical of the State's argument that laws were merely designed to stop illegal trespass, noting that Wyoming already has laws that penalize trespassing. That rationale, he suggested, was a cover up for the law's true motivation—to protect land owners' interests by preventing environmentalists from gathering and reporting evidence of pollution and overgrazing.
We couldn't agree more. The court understood what we've known all along: that these laws are about stopping speech, and not about stopping trespass. And when it comes to the First Amendment, when a law is based on viewpoint discrimination, it cannot stand unless it is narrowly tailored to further a compelling state interest—which Wyoming's laws most certainly are not.
In reality, the ag-gag laws are a blatant attempt to elevate private interests over the common good. The laws were the brainchild of the cattle industry, which wanted to stop our non-profit client, the Western Watersheds Project, from collecting water samples designed to prove that overgrazing of the land by the cattle industry is polluting the water supply. Never mind that overgrazing is bad for the water, bad for the land, and in violation of a host of federal and state law. The industry wants its overgrazing, and these laws were designed to allow them to keep doing it.
But we, WWP, and all the other members of our coalition believe that Americans have a First Amendment right to learn the facts and speak truth to power. We will keep fighting to ensure that citizens of Wyoming can do just that.