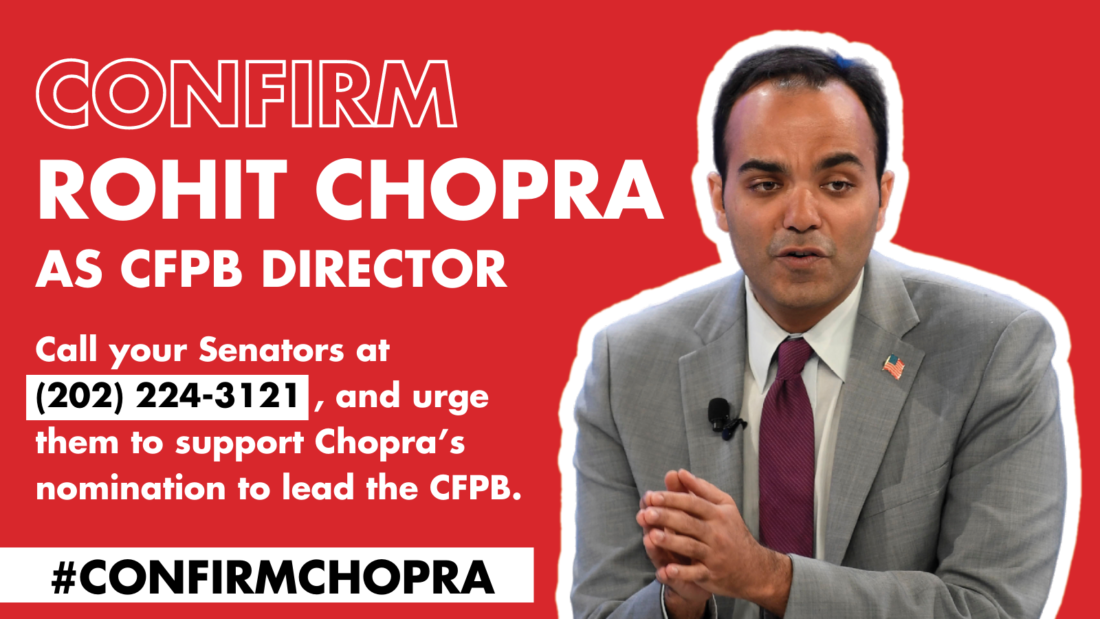 Urgent: Support Rohit Chopra's Nomination to Lead CFPB
Republicans on the Senate Banking Committee are trying to derail President Biden's nomination of Rohit Chopra to lead the Consumer Financial Protection Bureau (CFPB), one of the most important – and, until four years ago, one of the most effective – federal agencies in Washington. The full Senate is expected to vote on the nomination later this month.
Call the Capitol Switchboard at (202) 224-3121, ask to be connected to your Senators and urge them to support Chopra's nomination to lead the CFPB.
Chopra, who currently serves as a commissioner on the Federal Trade Commission, worked closely with Sen. Elizabeth Warren on legislation that created the CFPB before joining the agency himself in 2011. While there, Chopra led CFPB efforts exposing abuses in the student lending market and called out private student lenders for their treatment of borrowers. Chopra also helped lay the groundwork for President Obama's Student Aid Bill of Rights, aimed at providing borrowers more power with loan servicers.
Chopra's confirmation would signal a return to the pro-consumer enforcement and policies of former CFPB Director Richard Cordray, who made the agency one of the most respected, and successful, in Washington before it was dismantled and derailed by the Trump Administration.
Consumers must once again have a consumer agency that is doing the job Congress intended it to do and Rohit Chopra is exactly the right person for the job.
Don't let Senators use desperate tactics and baseless allegations to sink Chopra's nomination. Call your Senators today and tell them to vote YES on confirming Chopra – and help ensure the CFPB starts working for consumers once again. 
Together, we can help return competent and effective leadership to the CFPB.