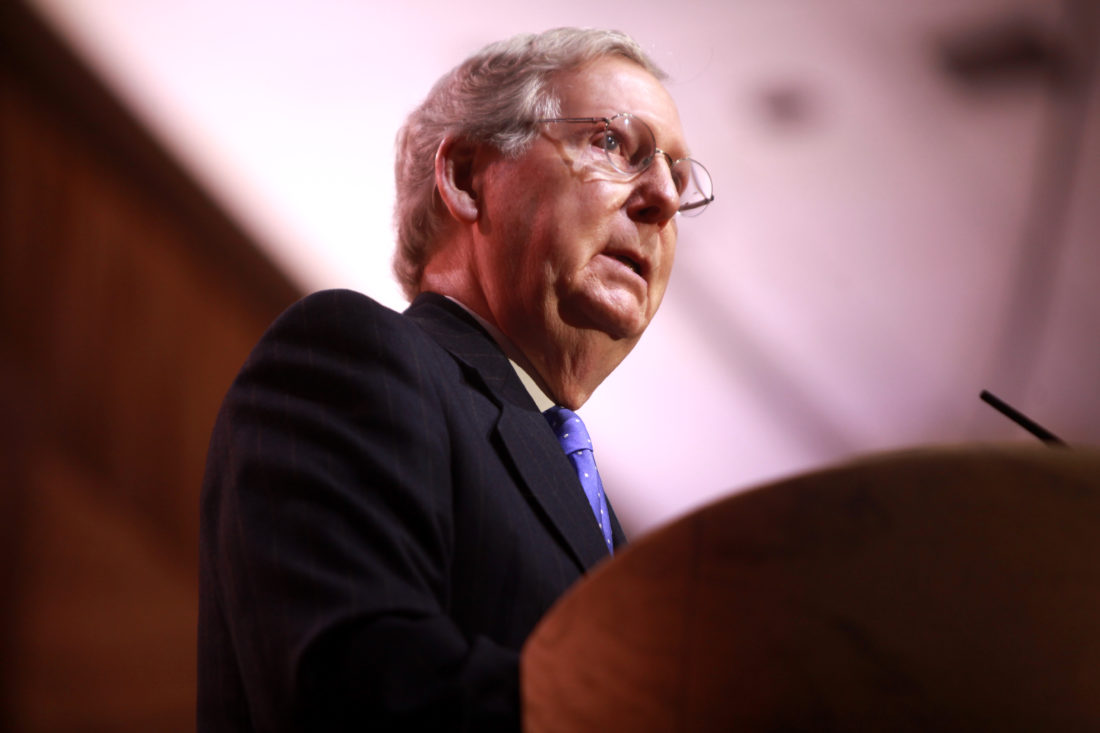 McConnell's Latest Corporate Immunity Proposals Are A Direct Sabotage To Our Democracy
By Lucy Sears
Communications Associate
With less than two weeks until the new year, it appears that Congress has finally settled on a $900 billion COVID-19 relief bill, following many months of negotiations that were largely attributed to Senate Majority Leader Mitch McConnell's continued refusal to back down on several proposals seeking to grant temporary corporate immunity for companies facing COVID-related lawsuits. While Senate Republicans appear to have agreed to drop the proposal for this round of funding, we cannot allow for it to be included in any future deal, as its addition would be disastrous.
Additionally, McConnell's demands that OSHA and state governments be barred from penalizing corporations that have failed to take effective COVID safety measures are another stark reminder that Republicans no longer have the best interests of the nation's people at heart. Instead, McConnell's own agenda of keeping corporations happy has taken precedent over the party's own longstanding doctrine of emphasizing states' rights, with this new provision that enables federal legislation to overrule and inhibit state laws.
We have seen how our own efforts—and the efforts of our allies—have helped keep corporate immunity out of this bill. As workers' rights and civil rights coalitions continue to successfully push back on McConnell's attempts to endanger more American lives, the political power of essential workers continues to grow, as support strengthens for fighting to protect these frontline workers over the profits of big corporations. It is essential that we must carry that momentum into the new year and urge the incoming Biden Administration to insist that any future, long-term relief bill abandon both corporate immunity and attempts to strip state's power to keep their workforces safe.
Our success in fighting against corporate immunity should be a wake-up call to lawmakers who pushed for including it that they should not try to wage this battle again. As we head into 2021, the tides of public opinion are turning, and we will be more united, more powerful, and more vocal than ever before.
It's been evident throughout these negotiations that McConnell would rather undermine one of the most fundamental elements of democracy—that is, the peaceful transition of power—than provide actual aid to states and local governments in need. With his initial corporate immunity proposal, McConnell made his message clear in that he believes keeping the pockets of the GOP's corporate donors full is more important than ensuring the safety of America's workers. With these new provisions, McConnell has continued with his other ulterior motive in taking every measure to kneecap the incoming Biden Administration, even if it means letting more Americans die as the pandemic rages on.
OSHA needs to be allowed to do its job in a Biden Administration and enforce rules on social distancing and contact tracing, while actively investigating and punishing companies that fail to implement the policies and standards we know will protect workers from COVID. With no new regulations implemented that are COVID-specific, the agency has been able to get away with fining companies disgracefully low amounts that barely account for the rate of deaths and lack of action toward improving workplace conditions. McConnell's proposal seeks to further undermine the agency's efficacy, which has already failed to protect workers during the pandemic–a direct violation of its obligations, and a shameful display of behavior during such a critical and devastating time.
To be clear, McConnell's proposal continues letting corporations benefit from operating under an agency that already allows them to cut corners and avoid accountability. His attempt to curtail OSHA's oversight on companies is unspeakable during a time when lives are at stake, and it only highlights the hypocrisy in the government's supposed role to serve and protect. McConnell seems to have made his message very clear: if he can't prevent the Biden Administration from moving into the White House, he will do his very best to make their job—and the job of the government agencies they run—impossible.
Since the beginning of the pandemic, OSHA has filed only two citations in contrast to the more than 10,000 complaints it received. In a federal court hearing in July, OSHA even confirmed that it would never consider a failure to socially distance or provide masks a danger to workers–completely undermining state and federal government calls to do so. Secretary of Labor Eugene Scalia and OSHA Director Loren Sweatt have shown a lack of leadership that is especially shameful during a time where so many workers' lives are at risk.
In August, we called on Scalia and Sweatt to resign, based on our own first-hand experience fighting for workers in the courts. Our current case, Justice at Work v. Sec. of Labor Eugene Scalia, is a prime example of how the agency has failed to take action even after receiving desperate reports of workers being crammed together, perverse incentives to work despite illness, limited opportunity for handwashing, failure to inform workers of potential exposures to COVID, and more. In that case, an OSHA official testified as to the measures the agency took to protect its own personnel at the expense of Maid-Rite's by giving advance notice of an inspection to the Maid-Rite facility, freeing the company to temporarily change its practices for the inspector.
Additionally, our case Palmer v. Amazon is further proof that OSHA has been effectively AWOL throughout this crisis, and it is concerning and dangerous that the Courts defer to an agency that has shown how little it cares about the health of American workers. In this case, we even saw how Amazon discouraged workers to take adequate time to wash their hands or sanitize their workstations by failing to promptly pay for quarantine leave, a violation of some state laws. Additionally, the company failed to perform adequate contact tracing, as well as communicate to workers about what they should do if they begin experiencing COVID symptoms or believe they've been exposed. If McConnell gets his way, OSHA will be able to continue its nearly nonexistent regulation of companies, as they put profit over the deaths and illnesses of their workers.
In this most recent COVID relief proposal before the current compromise was negotiated, McConnell has used negotiations to further undermine crucial state laws that protect healthcare workers, by preventing states who have already passed real worker protections from enforcing them to stop companies from continuing unsafe working conditions. Because OSHA has failed to implement any lasting or impactful COVID standards or regulations, many state governors, legislatures, and state health departments have had to step in to expand worker protections through executive orders and specific worker protection requirements. These executive orders often include requiring employers to ensure physical distancing, provide face masks to all workers, improve ventilation and have hand sanitizer readily available to workers.
Virginia issued an Emergency Temporary Standard to protect workers, a first-in-the-nation COVID measure. California, Illinois, Minnesota, Oregon, and Michigan are just a handful of states that have also issued emergency standards, and several cities have implemented protective ordinances for workers. Philadelphia has even issued the first citywide ordinance protecting workers from punishment when they raise concerns over COVID safety or refuse to work under unsafe conditions. With the lack of federal government protection and enforcement, it is more crucial than ever that these state and local lawmakers are able to carry out these worker protections. McConnell's proposal attempts to undermine these state laws that have already been passed, and to suddenly step in on the basis of protecting corporations from going bankrupt rather than protecting citizens from falling ill to the virus, is disturbing, to say the least.
The addition of corporate immunity in any of these forms in any future deal would be devastating. While we cannot allow for corporate immunity in any future deals, it is equally important that we push for the necessity for funding to go toward state and city governments, so that they can continue providing aid and assistance to those most vulnerable. We are reminded yet again of how McConnell's idea of a compromise is one grounded in self-interest and greed, and how little the Senate majority cares about the American people.
Not only is Senate Majority Leader McConnell fighting for a corporate agenda that will be both disastrous and deadly for all workers and those most vulnerable during the pandemic, but this demand to undermine and strip government agencies from doing their job is clear sabotage of what a working democracy looks like. McConnell's proposal ultimately seeks to prevent the Biden Administration from enforcing worker protection laws, which is nothing but an act of defiance against the elected president. In short, McConnell doesn't care about whether this proposal even helps the American people–his defense is merely a poorly veiled strategy in the Republicans' larger scheme to cripple the efficacy of the incoming Administration and to do their absolute worst before Trump is out the door. At Public Justice, we will continue calling on lawmakers to expose this harmful and insidious plot and stand their ground by refusing to accept temporary corporate immunity in any future bill, and ultimately demanding legislation that works for the people and not against them.
Image by Gage Skidmore via Creative Commons.