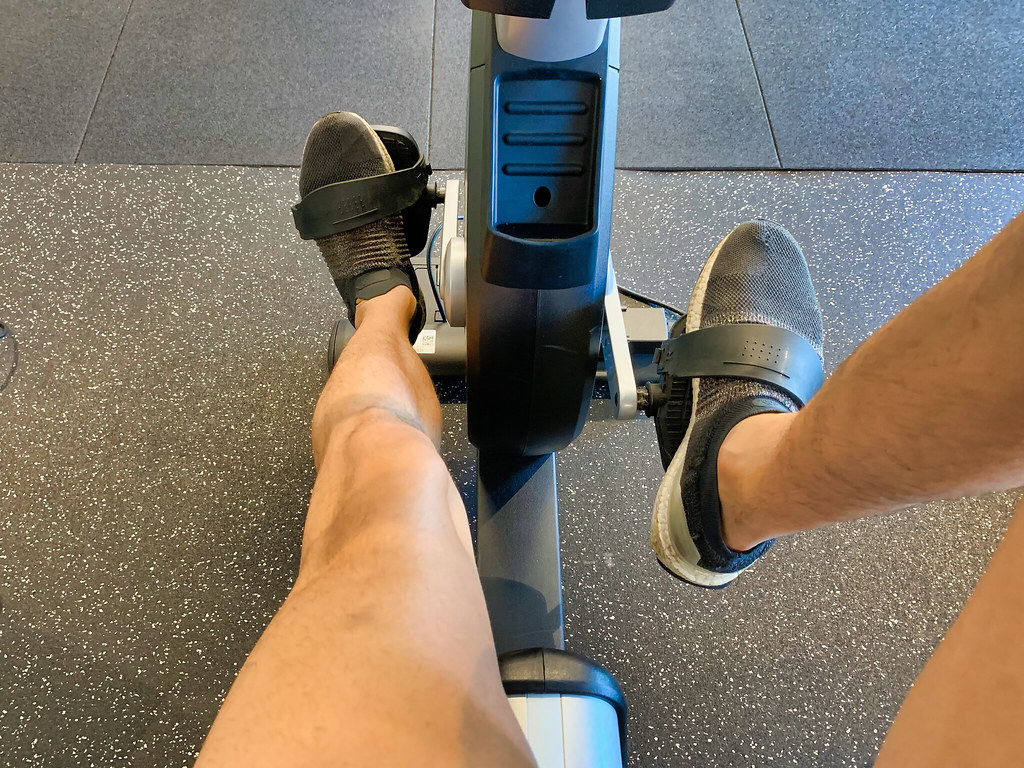 Peloton's Cycle of Broken Promises
"Pedaling a Stationary Bike" by dfmobile is licensed under CC BY-NC-SA 2.0
As lockdowns and quarantines continue across the country, and Americans look to maintain as much of their usual routine as possible while the COVID pandemic disrupts so many aspects of everyone's lives, we learned this week of the latest, and perhaps the most expensive, home shopping trend. As the New York Times put it, people are panic-buying toilet paper, meat… and $2,245 Peloton bikes. Peloton markets its pricey stationary bikes and treadmills around the company's digital subscription content, which users access to stream live and on-demand workout classes. Since mid-March, around the time coronavirus infections were soaring across America, Peloton's stock has risen 95 percent, with its revenue surging 66 percent in the fiscal third quarter.
That's a significant turnaround since the 2019 holiday season, when the company lost a billion dollars of stock value in one day. Now, almost overnight, Peloton has become one of the few economic success stories to emerge during the global pandemic. But, buyer beware: there are worse things to fear from Peloton than the panicked eyes of the woman from Peloton's controversial commercial. Peloton's content doesn't just come with a promise of a new you, and a $39-a-month subscription fee. It also comes with an arbitration clause designed to ensure you can never hold Peloton accountable in a court of law if the company cheats you or breaks the law.
Here's the real-world reason that matters: When advertising its subscription content to customers, Peloton bragged about its library of on-demand workout classes with accompanying popular music as "ever-growing." But soon after promising users a class library that would always increase in size, the company received cease-and-desist letters for copyright infringement over some of the music used in its classes. And after Peloton was sued for copyright infringement, the company deleted more than half of its class library. Nonetheless, Peloton continued to advertise its "ever-growing library," even though monthly subscribers soon found that a substantial portion of it had disappeared.
In response, customers filed thousands of claims in arbitration. Peloton's fine print "Terms of Service" said that if consumers had legal claims, they had to go to arbitration, and these consumers followed Peloton's Terms of Service and pursued their claims in arbitration. Under its Terms of Service, Peloton had to pay most of the fees for any arbitration. Such stipulations are common; if a corporation wants to force its customers out of court, it can't also make them pay significant sums of money to private arbitrators. But, instead of keeping its own end of the bargain, Peloton refused to pay the arbitration fees needed so that Peloton's customers could pursue their claims.  Peloton refused to pay despite a determination by the American Arbitration Association ("AAA"), the private arbitration company handpicked by Peloton, that Peloton should pay (with the exception of arbitrations proceeding in Kansas, where the claimants paid their own fees when their claims were for $10,000 or more).
When it broke its own contract, though, Peloton lost the right to force its customers to pursue their claims in arbitration. Following Peloton's refusal to pay, the AAA announced that "either party may choose to submit its dispute to the appropriate court for resolution" and declined to accept future consumer matters submitted by or against Peloton. Following the go-ahead from the AAA, attorneys with DiCello Levitt Gutzler and Keller Lenkner, representing Peloton customers from across the United States, filed a class action lawsuit to hold the company accountable for misleading its customers.
This situation reveals that Peloton doesn't believe that it's accountable to its customers. When challenged by thousands of customers who properly followed Peloton's Terms of Service and filed individual arbitrations, however, Peloton was so determined to never do right by those customers that it refused to honor its own Terms of Service obligations.  The legal team is still representing Peloton customers in Kansas arbitrations, and they are also currently awaiting a decision on Peloton's motion to dismiss the class action.
Now, as Peloton purchases grow exponentially, so does the potential harm the company is inflicting on all of its customers. Each of those Peloton users will find that their equipment comes not only with promises of burned calories, but also questionable legal accountability for the company they've just sent thousands of dollars to. If Peloton didn't abide by its promises of an "ever-growing library" and that it would pay the arbitration fees for customers pursuing claims against it, then what other promises will Peloton break in the future?
Peloton isn't the only bad actor seeking to use arbitration as an escape route when convenient for the company, then abandoning the tactic when faced with numerous arbitration claims by its own customers. The same strategy has been employed not only against misled consumers but also against workers seeking their due wages. In 2019, thousands of couriers working for food delivery service DoorDash filed individual demands for arbitration against the company over missing wages caused by misclassifying workers as independent contractors. Though DoorDash had previously handled similar cases in arbitration and pushed employees to utilize it, they refused to pay any of the arbitration fees (while workers, with significantly fewer financial resources, paid the fees on their side), causing the cases to be closed by the AAA. The workers had to ask a federal judge to "force DoorDash to comply with the terms of its own forced arbitration clause, and to ask for a temporary restraining order after DoorDash attempted to force its workers to sign new arbitration agreements a day after" the closing of the filings. DoorDash is still trying to have its own forced arbitration dismissed by the courts. Attorneys with Keller Lenkner represented DoorDash consumers.
While Peloton proceeds to break its own records for user participation (last month hitting 23,000 users at one point), it has faced legal actions for not paying copyright holders for music in Peloton classes and misleading customers about the size of the class library they're paying for. That now-infamous Peloton commercial, and its star's unhappiness with her Peloton bike, appears to be quite appropriate.