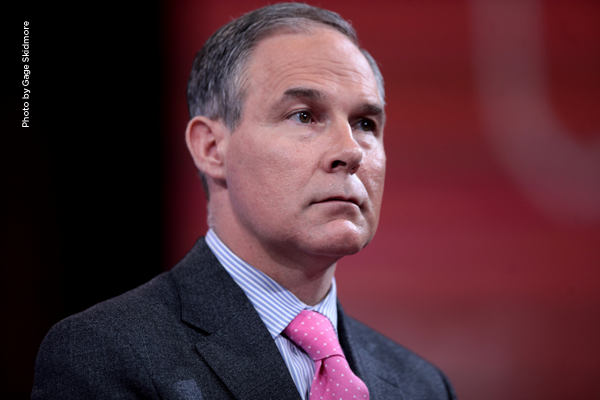 Public Justice Announces Opposition to EPA Nominee Scott Pruitt
For the first time in its 35-year history, Public Justice has announced it will officially oppose a cabinet-level nomination. The organization has called on Senators to vote 'no' on the nomination of Scott Pruitt to lead the Envrionmental Protection Agency.
"The nomination of Scott Pruitt to lead the EPA is so irresponsible, and so dangerous for our environment, that we simply could not remain on the sidelines of this debate," Public Justice executive director Paul Bland said. "Pruitt's record shows that he is the antithesis of an environmental protector, and his record as Attorney General of Oklahoma underscores his animosity towards science, public safety and the very agency he has been tapped to run. Every American who values clean air and water, and who cherishes our country's natural resources, should be alarmed by this nomination."
During his time as Attorney General of Oklahoma, Pruitt failed to take any action to curb increased seismic activity that geologists have linked to oil and gas fracking in the state. In November 2015, Public Justice filed suit, on behalf of the Sierra Club (which also opposes Pruitt's nomination), against oil and gas companies operating in the state. At the time, the organization noted that, without intervention, "the risk is not only that there are more frequent earthquakes; it is also that those earthquakes have been, and will continue to be, more severe." In September 2016, the state was rocked by a 5.6-magnitude quake which seismologists deemed the largest manmade earthquake in history.
The New York Times also recently published 84 pages of documents between Pruitt and lawyers for Devon Energy that, the paper said, show an "unprecedented, secretive alliance that Mr. Pruitt and other Republican attorneys general have formed with some of the nation's top energy producers to push back against" environmental laws and regulations.
"As Oklahomans were being shaken by more, and stronger, earthquakes, Scott Pruitt did nothing except hobnob with oil and gas lobbyists," Bland said. "And while the people of his state were trying to find a way to repair homes and property damaged by the quakes, Pruitt pocketed $325,000 from the industry responsible for the damage. In fact, his allegiance to big oil is so strong that one oil company executive even co-chaired his 2013 re-election campaign."
Pruitt's online bio boasts of his adversarial relationship with the EPA, and brags that he is "a leading advocate against the EPA's activist agenda." And when citizens have taken action after Pruitt failed to do so, he has pushed back on their efforts as well. State Impact, an Oklahoma public radio affiliate, has reported that, "Pruitt has [even] sued the EPA for being sued— by environmental groups like the Sierra Club" which represent Oklahoma citizens.
Pruitt's ties to the oil and gas industry, and his record of blatant disregard in the face of environmental destruction in his own home state, led Public Justice to today's announcement.
"It's difficult to imagine a more uniquely unqualified person to lead the nation's environmental protection efforts," Bland concluded. "The threats to our climate are real, but any assertion that Scott Pruitt will deal with them responsibly is pure fiction. He cannot be trusted to guard our environment, or put public interests ahead of the oil lobby. Senators should reject his nomination and demand a more qualified nominee to lead one of our country's most important agencies."
photo by Gage Skidmore, via Flickr