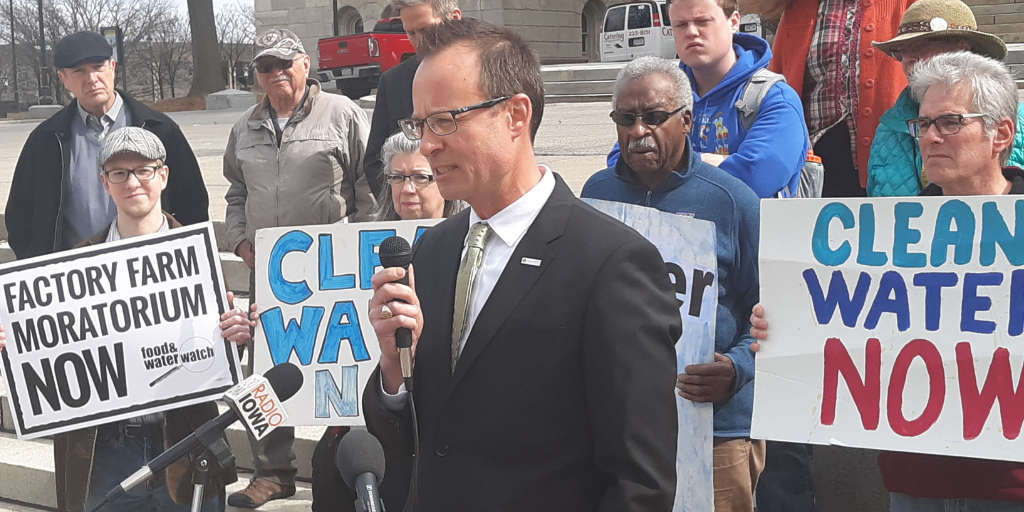 Public Justice Leans Forward to Enforce a Right to Clean Water
By Brent Newell
Food Project Senior Attorney
Iowa recently lost Bill Stowe, the courageous and dedicated Director of the Des Moines Water Works, who spoke truth to power when he led an effort to protect drinking water from agricultural water pollution. Bill often said that, in the fight for clean water, we should "lean forward." And that is what we are going to do.
The Raccoon River provides drinking water for 500,000 Iowans and was once a treasure for recreational use. Now, unabated nitrogen and phosphorus has made the water undrinkable without expensive treatment. The problems of agricultural nitrate pollution, increasing blue-green algae, and state governments' unwillingness to hold corporate agriculture accountable are not isolated to this watershed, or Iowa, or even the Midwest. Nitrogen and phosphorus-driven algae blooms now degrade water quality from Florida to the Great Lakes to California, releasing toxins and increasing in prevalence as climate change fuels the conditions for larger and larger blooms.
Iowans know all too well the summer pattern, with notifications that public beaches are closed because of toxic algae blooms. Many remember the summer of 2016, when an algae bloom produced high levels of the toxin microcystin in the Raccoon River, and the Des Moines Water Works issued a warning to all customers. And many residents in the Des Moines area know the ongoing and excessive levels of nitrates above the 10 mg/l drinking water standard in the Raccoon River where the Des Moines Water Works sources drinking water, and they know their water bills must pay for expensive nitrate treatment.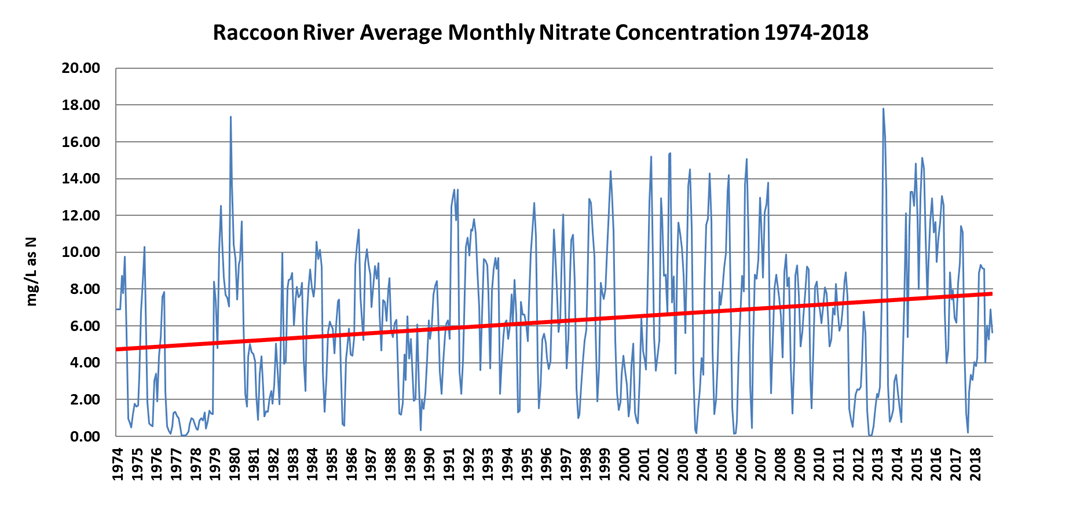 To respond to this crisis, protect the right to clean water, and "lean forward", the Public Justice Food Project, Iowa Citizens for Community Improvement, and Food & Water Watch recently filed a lawsuit on behalf of Iowans to hold the corporate-controlled agriculture system accountable for polluting their water.
Our lawsuit to protect the public's right to clean water relies on the Public Trust Doctrine, which traces its roots all the way back to Roman law. The Public Trust Doctrine says everyone has the right to use and enjoy the navigable waters of Iowa, and it obligates the state as the sovereign to protect those water bodies for public use. Iowa has embraced the doctrine as the trustee, and now this case will hold it accountable to the public as the beneficiaries.
Our clients have worked tirelessly to secure clean water and support rural communities' resistance to the extractive, corporate-driven agricultural system in Iowa. Rural communities have suffered as corporations have taken control of the food system and driven prices down, and family farmers out of business.
The Raccoon River watershed is no different: get big or get out. About 75 percent of the watershed's 3,600 square miles is under corn and soybean production, with artificial fertilizer and factory farms' hog waste releasing massive amounts of nitrogen and phosphorus into the river. Thriving rural communities have declined with the price of corn while the level of harmful nitrates in the river continues to rise.
Iowa has allowed agricultural sources to operate without restriction, promoting only "voluntary" management practices. With farmers making less than 15 cents for every food dollar spent at the grocery store, and with corn prices hovering around $3.50 a bushel, many farmers will not voluntarily absorb the costs of water quality protections while operating within this corporate-dominated system. Water quality will continue to decline unless we dismantle this corporate system.
Our lawsuit would secure a declaration that the public has the right to clean water and the state has violated its duty. A court order would mandate proven management practices that will not only protect water quality, but would reduce greenhouse gas emissions and put CO2 in the atmosphere back into the soil. Climate activists, including the architects of the Green New Deal framework, have cited truly sustainable agriculture as a core part of any solution to our climate crisis.
The day after our clients filed their case, Senator Bernie Sanders placed an op-ed in the Des Moines Register that echoed our clients' demand for clean water by pledging to "stop corporate polluters from poisoning Iowa waterways." Our case, with empowering farm policy and a stronger base of people, cannot only champion the people's right to clean water, but also serve a movement that wants to revitalize rural communities and support farmers, while stabilizing our climate and restoring Iowa's clean water heritage.
The plaintiffs in the suit, represented by The Public Justice Food Project as the lead counsel, are Iowa Citizens for Community Improvement and Food & Water Watch. Our legal team includes Roxanne Conlin, one of Iowa's top lawyers and a civil rights champion. Roxanne also served as a Public Justice Board Member from 1991 to 2000. We are thrilled to have her on our team.
————————————————————————————————————————-
The plaintiffs are represented by Brent J. Newell of The Public Justice Food Project in Oakland, California; Roxanne Conlin and Devin Kelly of Roxanne Conlin & Associates in Des Moines, Iowa; Channing Dutton of Lawyer, Lawyer, Dutton & Drake in Des Moines, Iowa; and Tarah Heinzen of Food & Water Watch in Portland, Oregon.