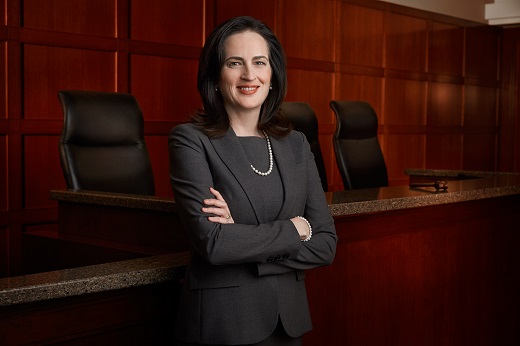 Tara Sutton Becomes Public Justice President
Champion of people injured by defective and harmful products to lead organization for one-year term
In the eyes of Public Justice president Tara Sutton, the results of the 2016 election left Public Justice with a multitude of new challenges – along with an opportunity to be a true leader where the federal government has stepped back in its legal obligations to vulnerable people.
"The world has changed so much since November, but I'm hoping that we are able to pick a few key battles in which we fill in the vacuum created by the Trump administration's decision to not enforce rules that align with Public Justice's core values," she said
Sutton will oversee a threefold plan to do this:
Our team of attorneys will leverage Public Justice's legal expertise within coalitions leading the fight to protect the rights of students – including transgender youth and sexual assault survivors – in schools, to preserve the civil justice system as we know it, and to bring about a more just and humane food system, among others
Public Justice will take a lead role in educating the general public about the ways the administration and big business are undermining their health, safety and rights, and how Public Justice suits and advocacy are essential in fighting back. Public Justice's newly-created Outreach Manager role will be central to this effort
Public Justice's education and advocacy campaigns will be used to grow Public Justice's base of support
"These are goals we at Public Justice have talked about for so long, and now we have a structure in place to make it happen," Sutton said.
Sutton, who chairs the Mass Tort Litigation Group at her longtime firm Robins Kaplan in Minneapolis, Minn., has dreamt of being a lawyer since sixth grade, when all she knew about being one was that it was a way to bring about change.
Beginning in her second year as an associate, she played a substantial role in the victory of which she's most proud: the one coming in the mid-1990s Minnesota tobacco litigation, a historic $6.5 billion settlement that delivered substantial injunctive relief that brought about a big change in the way tobacco was advertised. The case, in which Sutton and fellow Robins Kaplan attorneys represented the state of Minnesota and a health insurer exposing a half-century of tobacco industry lies about the safety of cigarettes, featured a trial in which nearly all of the big tobacco executives testified that smoking was safe.
"When we began working on this case in 1994, the tobacco industry had never paid a dime in a lawsuit," she remembers.
Since, Sutton has focused mostly on helping individual victims of defective products, particularly harmful medications and medical devices.
"My clients often come to me to tell me about the worst thing that's happened to them, and to ask me to be their voice and stand up for them," she said. "Most recently, my practice has been focused on individuals who have faced psychiatric injuries that have a lot of social stigma surrounding them. It's been particularly rewarding to help them, and to help them repair their lives."
The most important connection between her practice and the docket of Public Justice, she says, is a common commitment to ensure safety information about harmful products are not sealed under dangerous and unnecessary protective orders. (Read more about Sutton's practice in our Meet our Members profile of her work here.)
As president of the Public Justice Foundation, Sutton is charged with guiding the organization's litigation, fundraising and advocacy work while also leading the Public Justice Foundation's Board of Directors and Executive Committee.
"Tara's passion and resolve will be critical as we work to expand our outreach and tackle the formidable challenge of defending the progress we've made and continuing our work to make a positive impact on people's lives and create real, lasting change," Public Justice Executive Director Paul Bland said of Sutton's elevation to the presidency.
At the end of her career, Sutton hopes to have seen improvement in the number of women participating in, and leading, large and complex litigation, which is a cause she champions.  She sees the leadership within Public Justice as something of a model for this, saying that "the most important leadership skills that I'm learning for this role are from other strong women who hold and have held leadership positions on the board, particularly immediate past president Anne McGinness Kearse."
Away from work, Sutton is a mother to two teenagers and a college-aged son. She loves hiking, and particularly looks forward to an annual hiking trip to Colorado with fellow Public Justice board members.
As Tara begins her Public Justice Presidency, she's also looking forward to leading the organization to new heights, one smart, strategic step forward at a time.