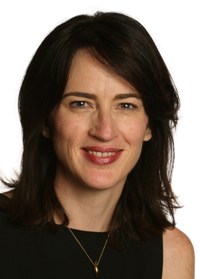 Tara Sutton
Past President
To people who know Tara Sutton and her practice, it's not surprising that Benchmark Litigation named her a "Litigation Star" for 2013. Or that Minnesota Super Lawyers included her in its "Top 50 Women Lawyers."
At her firm in Minneapolis, Tara represents individuals harmed by the pharmaceutical and medical device industries. Her past successes are many.
In 1998, she was trial counsel in a major case against Big Tobacco: State of Minnesota and Blue Cross & Blue Shield of Minnesota v. Philip Morris. After a four-month trial, the defendants agreed to settle for more than $6.6 billion.
Ten years later, she represented plaintiffs in the bellwether products liability trial concerning the Parkinson's drug Mirapex. In July 2008 the jury in Charbonneau v. Boehringer Ingelheim Pharmaceuticals and Pfizer returned a verdict of $8.2 million ($7.8 million in punitive damages) against the defendants for failing to warn of the risk of compulsive behaviors, including pathological gambling, from taking Mirapex. Tara later helped to settle nearly 300 Mirapex cases brought by her firm. An industry expert in her practice areas, last April she co-chaired HB Litigation's Food, Drug & Medical Device Forum.
Tara has another busy year ahead. She's currently handling cases involving Vioxx (an anti-inflammatory drug) and Chantix (a prescription medication used to treat smoking addiction). This March she'll be speaking in Steamboat Springs, Colo., to the Ohio Association for Justice, Colorado Trial Lawyers Association, and the Workers' Injury Law & Advocacy Group. Tara also chairs Robins, Kaplan, Miller & Ciresi's Mass Tort Litigation Group and serves on the board of the Minneapolis Children's Theater.
In addition to her private practice and speaking engagements, Tara is a dedicated member of the Public Justice Foundation's Board of Directors and Executive Committee and will be attending our upcoming spring meetings and events in Washington, D.C., and our summer convention and gala in San Francisco. In 2012, our 30th anniversary, Tara was one of only a few dozen 30-for-30 contributors — individuals or firm who gave a minimum of $30,000.
"I take a lot of pride in being part of Public Justice," she says. "When I first got involved, back in 2005, I wasn't sure how much time I'd have to commit. Time is always a problem; there's never enough of it. Well, we give our time where we think it'll do the most good, and now I'm fully committed to Public Justice. I participate in fundraising phonathons and have joined numerous committees.
"I really want to help the organization as much as I possibly can — and encourage other lawyers to do the same."
To join Tara and thousands of other plaintiff's lawyers nationwide as members of the Public Justice Foundation, click here.