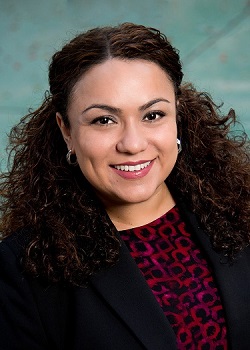 Felicia Medina
Executive Committee Member
Felicia Medina was aware of oppressive corporate power from a young age. Growing up in the central valley of California, her grandmother was intimately involved with farm worker advocacy, raising awareness about domestic violence, educational inequity, and other injustices. "My grandmother ran an informal safehouse for people immigrating to the country," Felicia said. "People, on one hand, thought this was great work."
But on the other hand, Felicia saw a xenophobic, racist backlash to the farm worker and other movements." "There was a lack of a sense of humanity that was disturbing to me." This same lack of humanity also showed itself through exploitive, racist, homophobic referendums backed by big corporate money and power in her home state of California. That's what fueled Felicia's early activism and decision to pursue law.
"Advocacy appealed to me. I didn't have any lawyers in my family. I have always been drawn to rhetoric as a powerful tool. I also saw that there was a complete lack of diversity in the bar and on the bench. I like the fact that as lawyers, we're supposed to have interest beyond our own self-interest, beyond our own clients' interest, to something that's called 'justice.'"
Today, Felicia is the co-founder of Medina Orthwein LLP, a queer-owned civil rights law firm fighting employment discrimination, unfair wages, police and government misconduct, sexual harassment, and inhumane prison conditions. She is proud that her firm is informed by abolitionist principles and operates as a "safe space to provide trauma-informed legal counsel."
Felicia has led some of the country's most groundbreaking and significant employment cases. In her early years as a plaintiff lawyer, Felicia quickly stood out in the top of the field by helping secure the largest employment gender discrimination verdict in U.S. history in the Velez v. Novartis case. Felicia went on litigate Wellens v. Daiichi Sankyo, the first case to be conditionally certified under the Equal Pay Act in the Ninth Circuit. Felicia has also notably pioneered the concept of pre-suit class settlements, including a $19.5M settlement with Qualcomm, a $7.75M settlement with Western Digital, and a $11.5M settlement with Kaiser Permanente. Continuing her commitment to expanding the law, in recent years, Felicia has filed groundbreaking class cases under California's updated lactation accommodation law and California's recently amended Fair Pay Act.
As a nationally acclaimed plaintiffs' attorney, Felicia remains driven by her passion for humanity and justice. "There's a lot of erasure of peoples' experiences, and as a trial lawyer, you are able to bring peoples' stories to life and create a powerful narrative," she reflected. "To put my clients' stories forward, to create a record to stand up to Goliath. It is a gift to be able to do that and to support my incredible staff in this feat."
Felicia was first introduced to Public Justice when she co-counselled with Executive Director Paul Bland on a race discrimination class action suit that went before the California Supreme Court. Learning more about PJ's staff, successes, and strategy drew her to the organization. "I wanted to be a part of an organization with people who live and breathe the values that align with my own and are on the cutting-edge of many issues that affect us in the U.S. and globally," Felicia shared. "Public Justice is an essential partner in impacting peoples' lives and bending the needle toward justice."
One of Felicia's goals is to support new attorneys passionate about fighting for equity. She urges law students and those early in their legal careers to get involved with Public Justice. "If you want to be in community with people who want to explore, expand, and uplift people's voices, and you have a sense of how power structures create and foster inequity—that's what I think Public Justice does."
"Public Justice is at the forefront of implementing national strategies and regrouping, even if the system is working exactly how the system was designed to work—and not getting discouraged by that, but instead still believing in our capacity to be transformational in the law," she added.
Alongside strong advocates like Felicia, we're determined to keep up the fight for social, economic, and environmental justice. And we hope you'll join us, too.