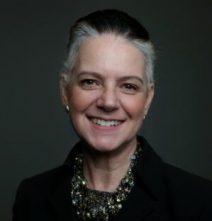 Jayne Conroy
Jayne Conroy's original plan wasn't to become a lawyer: it was to become a doctor. While applying to medical schools after graduating with a degree in biology from Dartmouth College, Jayne was offered a position as a paralegal. Through this experience, and specifically working on DES (synthetic estrogen) cases, she was captivated by the idea of becoming a lawyer. "It was fascinating to see science and the law, and how they intersect," Jayne says.
Jayne is now an experienced litigator, with over 30 years of experience fighting for the public interest. As a skilled trial lawyer and negotiator, her current practice focuses on various complex civil cases. Jayne cites her involvement in fighting the opioid epidemic in New York counties and filing over 100 cases on behalf of child sexual abuse victims as the work which has given her the most gratification, as they show that "there is a way of achieving justice [through litigation]."
Jayne and her firm Simmons Hanly Conroy have been members of Public Justice for numerous years. Of both her firm and Public Justice, Jayne notes, "we're certainly aligned, we're looking for the same measure of justice for individuals." Knowing that this justice can be "difficult to achieve within the structure of our country," she appreciates the work of Public Justice to preserve access to the courts for ordinary people across the country: "Public Justice gives us a legitimate voice in that area, many times Public Justice can articulate those fights." Ultimately, Jayne sees how her firm and Public Justice are fighting the same fight – to preserve access to justice for all.
Jayne notes that giving voices to individuals harmed by corporate wrongdoing and large institutions "really is a specialty, as you need to have unbelievable resources to fund something like this." As a trial lawyer, she sees patterns of deception as well as prohibitive costs to litigate cases. Because of barriers to access to the courts, such as the work it takes to obtain the resources necessary to fund investigations and discovery, many important cases may never be heard. Jayne hopes that in the future, there is a greater appreciation and understanding of what it takes "to mount the kinds of wars we take on."
While Jayne is aware of these barriers, she is confident that our current system can be improved. Specifically, she is confident in the impact the next generation can have. She is proud that within her large, extended family — who she is happy to spend the majority of her time with when she is not working — the children are growing up in an environment where they are encouraged to discuss difficult issues and express their thoughts about them. Jayne hopes that the next generation, and everyone throughout the country, remains optimistic and vigilant while working toward these changes, stating, "There is a path to justice, even if it seems insurmountable."