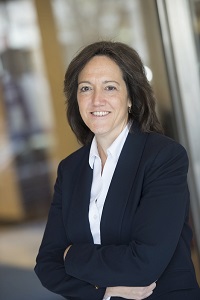 Linda Correia
Executive Committee Member
In Linda Correia's first ever trial, she represented a woman who had been fired due to sex discrimination, and was struck by watching her client in the moment the jury announced the verdict.
"She had been tough as nails and stoic throughout, but had suffered a deep-seated loss to her dignity and her sense of self because of the discrimination that she had been dealing with," Correia said.
"Then, when the jury returned the verdict in her favor, she was inconsolable; because it was the first time what she'd suffered had been truly recognized. It was total vindication."
It was a moment when the importance of her trial work hit home for her, and one that crystallized the degree to which being a voice for victims of sex discrimination means, sadly, having to prove time and time again that sex discrimination is prevalent, or that it even exists.
Today, Correia, who serves on Public Justice's board, is a preeminent champion of employees in sex discrimination and retaliation claims, including Title IX, sexual harassment, and pregnancy discrimination. She and her colleagues at Washington, D.C. firm Correia & Puth exclusively represent workers.
She received Public Justice's Trial Lawyer of the Year Award in 2000 for securing a $508 million settlement on behalf of a class of 1,100 women who were systematically discriminated against by the former U.S. Information Agency. It was, the largest award ever obtained under the Civil Rights Act of 1964.
Despite blatant evidence, including documentation that USIA officials had systematically erased and lowered the speaking and writing test scores of women, and only women, who had applied to work for Voice of America, the plaintiffs in this suit had to fight for over two decades. The relief in the historic 2000 settlement includes decades of back pay.
Correia also recently represented Mary Tappmeyer, the long-tenured University of North Florida women's basketball coach who was fired in 2015 after complaining about serious inequities between the men's and women's basketball programs in everything from quality of facilities to travel budgets and admissions standards for recruits.
According to one witness's report to Correia's team, Tappmeyer was so undermined by UNF's Athletic Director, who disdained the women's basketball program in general, that he asked one of her potential recruits, "Why would you even want to go here? She doesn't know what she's doing."
Tappmeyer settled claims under Title IX, Title VII, and the Equal Pay Act last month.
According to Correia, what happened at UNF fits into a longtime, nationwide trend of universities withholding funds necessary for women's sports programs to compete. But in her view, despite significant gains in gender equity in athletics, women still experience some fundamental barriers.
"What's different now is that [universities] are doubling down on limiting resources, or outright undermining the program by badmouthing the program, badmouthing the coach in a way that is designed to affect the success of the program," she said.
Correia is driven each day by the courage she's seen in her clients.
"It's not an easy thing to put yourself out there and stand up against someone, a rainmaker in your organization or someone who's prominent in your community, and go through litigation over it," Correia said. "I really enjoy standing with those people and trying to correct discrimination and retaliation."