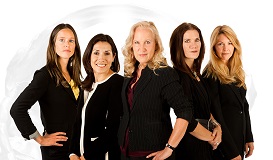 McGinn, Carpenter, Montoya & Love
Public Justice member firm McGinn, Carpenter, Montoya & Love stands out. The five partners, Randi McGinn, Allegra Carpenter, Elicia Montoya, Kathy Love, and Katie Curry, are all women. Even in 2015, that makes them very unusual in the legal world.
Perhaps as distinctive, according to partner Kathy Love, is the firm's explicit commitment to improving the health and safety of all of the citizens of New Mexico, and not just those who seek representation. This means litigation is not the firm's only method for fostering change, but that it exists alongside a strategy of pressuring companies and the government to change their practices long before a lawsuit is filed, and advocating early on for changes to state law.
A great example of that approach is reflected in the case McConnell v. Allsup's, a civil action on behalf of the family of convenience store clerk Elizabeth Garcia. Garcia was abducted, raped, and stabbed to death by a robber in 2002 during her second-ever night shift working at the store. Garcia's employer, Allsup's, had opted against what MCML's Randi McGinn explained to the jury were basic robbery prevention methods, principal among them having two employees working at a store over a night shift.
Though they settled the case in 2008, just before the jury returned with a verdict in their client's favor, the firm is just as proud of a related victory. As they litigated the years-long case, MCML also lobbied the New Mexico state government for a new set of regulations to protect convenience store workers by requiring, among other things, that these stores have multiple employees on staff between 11PM and 5AM, the graveyard shift.
These new regulations were adopted and took effect in 2005. According to Love, the new rules  have been so effective in preventing injury and death from convenience store crime (Elizabeth Garcia was sadly one of many victims in New Mexico in the years prior to 2005), that the firm "has happily put itself out of business" when it comes to those particular cases.
Another focus for the firm is police misconduct. MCML represented the family of Christopher Torres, a high-functioning schizophrenic who was killed by plain clothes Albuquerque police who confronted him in his back yard while serving a warrant for a traffic violation.
In a bench trial in 2014, a judge ruled in favor of Torres's family, finding that the police were responsible for Torres's death and awarding capped wrongful death damages. The City of Albuquerque later settled federal civil rights claims related to Torres's death. Love explained that the implications of getting this case to trial go far beyond one family, because it exposed serious flaws in the status quo of both training and hiring at the Albuquerque Police Department.
"The most important thing about that entire case is that we had a public trial in which the APD's culture was put out in the open," she explained. "Also important, especially for the Torres family, was the judge's finding that the officers' story was not credible."
Randi McGinn is currently serving as a special prosecutor in the murder prosecutions of two APD officers charged with killing homeless camper James Boyd in 2014, and is taking only a public defender's fee for her work on that case, which the firm has donated to local charitable organizations that provide support to homeless and mentally ill people.
Love says that MCML attorneys share a common goal for their careers: "To be able to look back and say that we've made New Mexico a better place."
By all accounts, they are well on their way.