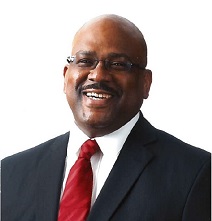 Preston Tisdale
President
When he was young, Preston Tisdale was training to become a concert pianist. Then came the civil rights movement.
His parents' trailblazing activism in his Western Connecticut community, and the lawyers he saw leading the charge for equal rights during that time, put him on the path to becoming a litigator instead. In particular, he has focused his career on fights that will "move the needle farther along" on ensuring racial equality within the justice system and in society as a whole.
Though he started his career as a litigator, and works on civil cases today, Tisdale has spent the bulk of his career managing public defenders, including as Director of Special Public Defenders for the State of Connecticut. He said there are certainly distinct skill sets for public defenders and trial attorneys, but that the unifying force between criminal defense and the litigation he works on now is the responsibility to put one's client on level footing with more powerful entities.
"In both kinds of work, you're looking to obtain appropriate redress for wrongs, also looking for access to justice, and a fair playing field – so that issues such as racial bias, class, and more, don't have an adverse impact."
Though Tisdale doesn't think of his 28 years in public defense in terms of a single defining victory, he spoke of a long, successful, quest by him and his colleagues to clear the name of a client accused of manslaughter, as a high point.
The case was originally a murder case that ended in a mistrial, which was followed by two manslaughter mistrials. Tisdale's client endured this, only to have the case thrown out before a possible fourth trial when the prosecutor released evidence that Tisdale recognized as exculpatory. When called in to testify as to why he hadn't handed that evidence over before, the prosecutor said that he simply didn't think it was relevant. Tisdale says this is an example of the inherent power of prosecutors in criminal cases "because there's tremendous discretion involved."
"It was already a devastating period in our client's life, in which he lost his job and had troubles with his relationship while having three juries decide his fate, but wrongful conviction would have been so much worse", Tisdale said.
Currently, Tisdale's litigation focuses on civil rights matters that touch on aspects of criminal justice, such as racial profiling and police brutality. He is currently working with fellow Koskoff, Koskoff & Bieder Attorney Antonio Ponvert on the case of Brown v. City of Bridgeport Police Department, as counsel for the family of yet another unarmed black man killed by a police officer. Frederick McAllister was shot and killed in 2008 by a Bridgeport police officer who both misidentified McAllister for his cousin wanted on felony charges, and claimed to have mistaken the phone in McAllister's hand for a gun. His family sued the City of Bridgeport for wrongdoing and negligence, but a jury cleared the officer of any wrongdoing in 2012. The Koskoff, Koskoff & Bieder team is currently appealing that decision.
Tisdale's other major role is as a liaison between his firm, which has a long history in civil rights activism, and the surrounding community. Tisdale's extensive extracurricular work illustrates his passions for the arts, working with children, and racial justice. He has served on the boards of the Westport Country Playhouse and the Greater Bridgeport Symphony, and the advisory board of the Center for Children's Advocacy. He is chairperson of the Regional Youth/Adult Social Action Partnership and serves on the Connecticut Commission on Racial and Ethnic Disparity in the Criminal Justice System.
At the end of his career, Tisdale says he hopes to have made some impact on the country through his work on police brutality and racial profiling cases, and to see "further advancement towards justice, harmony, and healing."