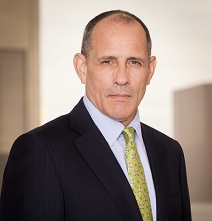 Raymond P. Boucher
Ray Boucher is a litigator with an unrelenting and unusual global focus. His first attraction to his profession came as a child, when he read in his hometown newspaper about how many of the people who worked to avert catastrophe in the Cuban Missile Crisis were lawyers. He became a trial lawyer, he says "in order to make the world a safer, fairer, more just place to live."
His personal focus, and in particular the work of his new firm Boucher LLP, is to counter what he sees as the defining trend of our age: corporations' growing power over the health, safety, and opportunity of people in America, and also in the developing world.
"I am constantly amazed at how much corporations are allowed to run free over the rights of everyday people, and put the interests of their corporate agendas ahead of fairness. From a societal perspective, it is just not appropriate," Boucher said.
Boucher's legal work has ranged widely, from cases regarding employment discrimination, to construction defect litigation and consumer litigation actions.
"I developed a reputation early on: if it's a difficult case, but there's a fundamental element of justice at stake – bring it to Ray," Boucher said. "One of the things I learned from Cesar Chavez is that there's no work too big or too small when someone comes to you seeking justice."
Though Boucher has no case for which he is most proud, or which he thinks defines his career, the case for which he received a nomination for the 2008 Public Justice Trial Lawyer of the Year Award was the Los Angeles Archdiocese and San Diego Diocese Catholic Abuse Litigation.
Boucher led a team of attorneys in securing $1.2 billion in settlements with the Catholic Church for more than 700 survivors of sexual abuse by priests in San Diego and Los Angeles. Over the past seven years since the monetary component of the settlement with the Los Angeles litigation, Boucher and a small group of lawyers have exposed church documents showing the diocese had, for decades, responded to warnings of abuse by particular priests by sending the priests to counseling and then to other assignments, never giving the benefit of the doubt to the accusers. The last of the documents will be published in February 2015.
In some ways as remarkable as the victory itself, was the way Boucher became involved in the case. While advising a California Senate committee on market manipulation, as he often did, Boucher happened to run into a group of victims having a meeting in a Senate office. Boucher became interested in their cause and later became their chief advocate in court.
"It was serendipity that got me involved in that case," he said.
Outside of his practice, Boucher works on projects in California and around the world that have the aim of ensuring access to justice for marginalized people. Several years ago, he went to Uganda along with a Pepperdine University law professor to begin the process of freeing young people who had been detained for supposedly having committed crimes, but had never been charged. The group, mostly aged eight to 16, lived without supervision at a rural detention facility, due to various breakdowns in the Ugandan legal system, according to Boucher.
The work was painstaking. "Everything is hand-written, if the police want to communicate with the court, they have to physically bring over their notes," Boucher said. "Many children had been detained for long periods of time. They were just lost in a system with no process."
On Boucher's Facebook page are pictures of the kids he helped in Uganda and the process of getting their cases heard.
Boucher's attitude is as fiercely forward-looking as it is global. He hopes the remaining years of his life are full of new accomplishments both on behalf of victims of corporate greed in America and around the world.
"I look at our clients as being like the man standing in front of the tanks at Tiananmen Square," he said.