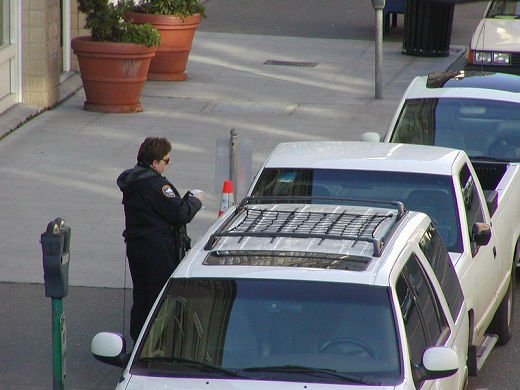 $500 Fine Imposed on Homeless Man Shows Why We Need the Excessive Fines Clause
Public Justice urges Washington Supreme Court to strike down unconstitutional fine
By John He, Debtors' Prison Project Skadden Fellow
Last week, Public Justice's Debtors' Prison Project filed a friend-of-the-court brief in City of Seattle v. Long, an important case pending before the Washington Supreme Court on behalf of a homeless man who was charged over $500 for a minor parking infraction. We argue in our brief that this fine is unconstitutional under the Excessive Fines Clause of the Eighth Amendment, a constitutional protection that could very well be a dead letter in Washington if the state's high court does not overturn the lower court's decision in the case.
Steven Long is a sixty-year-old Seattle resident and a member of the Confederated Salish and Kootenai Tribes of Flathead Nation. Since being evicted from his apartment in 2014, he has been homeless, living in his pick-up truck while working various jobs to save money for stable housing. After his truck began having mechanical issues, Steven parked his truck in an unused city lot for safekeeping. But on a cold and rainy Seattle night, he returned from work to find that the truck he was living in had been towed for violating a city ordinance that prohibited parking on public property for longer than seventy-two hours. Although Steven explained that he was homeless and had only $50 to his name, a Seattle court required that he agree to pay over $500 to recover his truck; otherwise, the City would auction it off. With the truck—his only shelter—hanging in the balance, Steven agreed to an onerous, yearlong payment plan to pay off his debt.
Steven's case is part of a broader trend throughout the United States. As the Brennan Center for Justice and others have documented, states and municipalities are increasingly relying on fines and fees to generate revenue. These types of financial sanctions are inherently regressive—that is, they have a greater impact on those who are poorer as compared to those who are richer. To use Steven's case as an example, the $500 fine imposed on him was clearly a severe penalty given his poverty and homelessness. Yet the same fine would have been only a slight inconvenience to someone earning $102,500,
What's more, the "offenses" for which these fines are imposed are often directly linked to poverty. Steven's case is again illustrative: as a homeless individual living in his vehicle, Steven was required by law to move his vehicle (and home) every seventy-two hours. People who can afford stable housing do not experience these kinds of difficulties. As the Homeless Rights Advocacy Project at Seattle University has documented, municipalities throughout Washington State similarly fine individuals for various types of conduct stemming from poverty and homelessness, such as sleeping outdoors, sitting or lying down on sidewalks, or storing belongings in public areas. These fines impose a severe and unfair burden on those already struggling to make ends meet.
The Excessive Fines Clause contains an express protection against these types of government practices. According to the Washington Court of Appeals, however, the fine imposed on Steven was not excessive under the Eighth Amendment even though he was indigent and had only $50 to his name. The court concluded that because the fine went toward repaying the city for the cost of towing and impounding Steven's truck, and because the city council had authorized the penalty, it was automatically constitutional. This decision, if allowed to stand, would render the Excessive Fines Clause toothless—any fine would not be excessive as Steven as it was authorized by the government and goes toward repaying the government for an expense.
In our brief—which was joined by the Institute for Constitutional Advocacy and Protection, the National Center for Law and Economic Justice, and the Rutherford Institute—we argue that the Constitution demands more. In United States v. Bajakajian, the U.S. Supreme Court held that a fine "violates the Excessive Fines Clause if it is grossly disproportional to the gravity of a defendant's offense." In other words, the Clause requires courts to weigh the severity of the fine in question against the seriousness of the conduct for which a person is being fined.
Our brief argues that this balancing requires courts to consider the circumstances of the individual person being fined. Without careful consideration of those facts, a court can't know the true severity of a fine being imposed because—as noted above—the same fine can have drastically different impacts based on an individual's circumstances. So, in Steven's case, the court should have weighed the severity of the fine based on his undisputed inability to pay. Similarly, courts must also consider whether personal circumstances might mitigate the seriousness of the underlying conduct. As this case illustrates, not all parking violations are the same. Although some infractions might have serious consequences (such as blocking an emergency lane or causing a dangerous traffic situation), Steven merely failed to move his truck from an abandoned city lot. Moreover, this infraction was the direct result of his poverty and resulting homelessness. Requiring a person in this circumstance to pay an over $500 fine serves no clear penological purpose; it's nonsensical. The Washington Supreme Court should reject the lower court's toothless standard and instead require courts to engage in meaningful analysis of an individual's circumstances when imposing a fine. Steven is represented by Jim Lobsenz of Carney Badley Spelman and Alison Cummings of Columbia Legal Services. The Washington Supreme Court will hear argument on the case on March 16, 2021.
Public Justice's Debtors' Prison Project works to end the criminalization of poverty by bringing strategic litigation. Our goals are to obtain financial compensation for victims whose rights were violated, establish key legal protections against the financial exploitation and incarceration of indigent criminal defendants, and create incentives to compel governments and their for-profit partners to abandon predatory practices. If you have an idea for a potential case or are interested in partnering with us on this work, please email Project Director Leslie Bailey at lbailey@publicjustice.net.
Image via QFamily on Flickr.