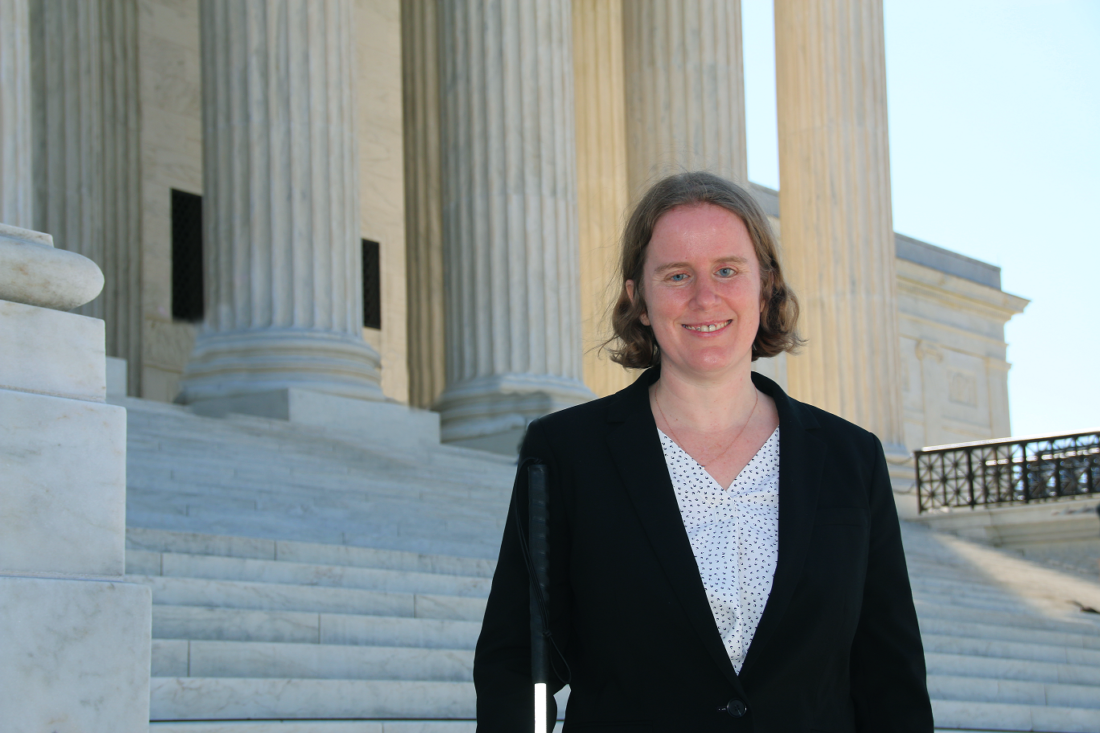 Justice Kagan tells Sundance attorney his argument 'seems a bit made up'
By Karen Ocamb, Director of Media Relations
Due to COVID-19 restrictions, former Taco Bell employee Robyn Morgan wasn't in the courtroom as Public Justice Senior Attorney Karla Gilbride argued her case before the U.S. Supreme Court on Monday, March 21. But her presence was intensely felt, as Karla argued on her behalf in Morgan v Sundance. This important wage theft case derives from Morgan's complaint that her employer, Sundance, Inc., regularly told her and other similarly-situated workers to clock out, then forced them to work overtime, then shifted those overtime hours to another week so it looked like Sundance was complying with federal wage and hour law providing for a 40-hour work week, while never paying for those overtime hours.
Morgan took Sundance to federal district court in Iowa in 2018. Her suit was on behalf of herself and all Sundance's other hourly workers throughout the country. Sundance first asked the court to throw out her case or transfer it to another court in Michigan, and later tried to settle the case on a classwide basis. But after almost a year in court, they decided the case wasn't going well and suddenly invoked the arbitration clause in Morgan's employee contract. Sundance asked the court to force the dispute into one-on-one secret arbitration behind closed doors. Morgan's attorneys argued that Sundance waived its right to go to arbitration by litigating in court for so long.
The district court agreed. But in March 2021, the Eighth Circuit Court of Appeals reversed that decision, ruling that "the parties had spent little time focusing on the merits of the case, and, as a result," Robyn Morgan "could not show the late assertion of the right prejudiced her."
Karla argued before the Supreme Court that the Eighth Circuit ruled incorrectly, because by requiring a showing of prejudice, it had applied an extra requirement to prove waiver of the contractual right to arbitrate, that doesn't apply to the waiver of any other contract right.
"Section two of the Federal Arbitration Act (FAA) requires that an agreement to arbitrate be enforced, unless a generally applicable contract defense renders it unenforceable," Gilbride told the Supreme Court. "But the Eighth Circuit didn't apply a generally applicable contract defense here. It applied an arbitration-specific waiver defense that requires the person asserting waiver to prove prejudice, even though prejudice isn't required to establish waiver of other contractual rights in Iowa. That's what the Eighth Circuit did wrong and that's why we're here. It should have assessed Robin Morgan's waiver defense under generally applicable Iowa law to determine if there was an enforceable contract on which the procedural provisions of the FAA could operate."
"Sundance intentionally relinquished its contractual arbitration rights by asking a federal judge to dismiss this case and filing an answer that didn't mention arbitration," she continued. "Those actions should have been sufficient for a finding of waiver and the same actions placed Sundance in default within the meaning of Section Three of the FAA. Prejudice has no part to play in either of these inquiries and the Eighth Circuit was wrong to require it."
The Eighth Circuit "came up with a special rule that says, if you waive your right under an arbitration clause, you have to show prejudice. Well, that's not the rule for any other type of contract," says Public Justice Executive Director Paul Bland. "Our question to the Supreme Court is: where did you come up with this idea — that you have to show prejudice for an arbitration clause — when you don't have to show it for any other type of contract right? Why is there this special rule for arbitration, when there's nothing about waiver prejudice or any of that in the one sentence that's a substantive part of this statute? That's really what the fight was about in the Supreme Court. Our argument is that Sundance is trying to find some complicated rule of law in this 1925 (FAA) statute, when it's not in the language."
Sundance "is making up these rules of law as to why there is a prejudice requirement for arbitration clauses when there isn't a prejudice requirement for waiver of any other contract right," notes Bland.
And Justice Elena Kagan made the same point.
"It seems a bit made up — this definition of default that you have," Kagan told Sundance's attorney during the arguments. "I mean, you say that there are certain things that count as default — missing an explicit deadline and … But where are we getting this from? We're not getting it from Section Four. We're not getting it from any other part of the FAA. Where does this Federal Common Law rule come from as to what counts as default?"
Sundance "is really playing games," Bland says. "They start off in court, they litigate in court for most of the year, and then they decide it's not going that well so they decided to change sides. And now they decide it's in their advantage to go to arbitration. Well, that's really jerking around the Federal Court. It's wasting the time of a federal judge — in Iowa in this case — by making him hear a bunch of stuff in the case and have hearings and read briefs and read papers and then they're going to say, 'Judge, we don't really like you that much. We're going to go to arbitration instead.'"
Justice Sonia Sotomayor seemed to agree. "The question becomes: did you know that you had the right to arbitration? And here, you knew," Sotomayor told Clement. "Nevertheless, you didn't move for arbitration in the answer as a defense. You made a motion to transfer the case. When that motion was denied, you indicated a willingness to continue in litigation and went into settlement talks. And actually, there were materials produced. By its nature, there was a delay in the speedy adjudication of the case because you didn't move to begin with to go to arbitration. So that's delay, something that was negotiated for….[T]he reason you waited was because you wanted to see how the court — by your own admission — you wanted to wait to see if the court was going to approve of class actions in arbitration. So you were taking a calculated risk by staying in litigation. Why isn't that a waiver under Section Six? Why isn't that a waiver under any normal definition? It prejudiced the other side. It hurt them at least financially. It hurt them in delay. And you intentionally sat on your rights, waiting to see if you could derive a benefit….[T]ell me why isn't that not a waiver as an intentional relinquishment of a known right?"
"We argued that arbitration clauses are supposed to be as good as other contracts, but not better," says Bland. "And one of the things that happened is that [some] pro- corporation courts have increasingly invented all sorts of rules that favor arbitration clauses — make them like they're super contracts, better than any other kind of contract. And that's been a terrible thing for workers, for consumers, for people who go into nursing homes and other people who are harmed by these arbitration clauses. And so, if the court will just stick to the principle and say, 'These arbitration clauses can't be treated better than other types of contracts,' that will be a huge victory for workers and consumers."
To view the full transcription of Karla's argument, click here. View a full video recap on our YouTube channel here.