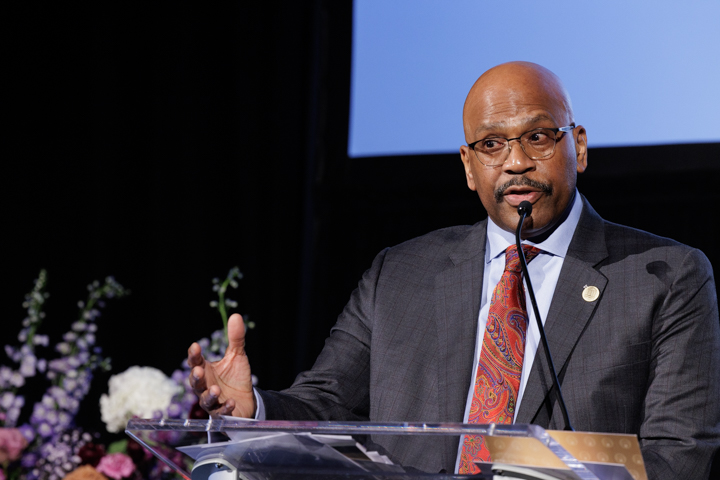 Preston Tisdale's Optimistic Vision for Public Justice
By Karen Ocamb
For more than four decades, Preston Tisdale, a longtime attorney with Koskoff, Koskoff & Bieder, has practiced law, fought for civil rights and engaged in civic activism. But for the new Board President of Public Justice, one case stands out like a strobe light of injustice.
While head of the Fairfield Judicial District Public Defender's Office, Tisdale defended a man charged with murder. The man was acquitted —but at the last minute, the prosecutor added two lesser included offenses for manslaughter. The trial ended in a hung jury and mistrial — as did two subsequent trials for manslaughter.
"The prosecutor told me that if it was hung a third time, he wasn't going to try it again," However, he changed his mind, Tisdale recalls, a strain of anger in his voice. "I was head of the Public Defender's Office. He was the head of the State Attorneys. He handed it off to one of his underlings. But when I got up to Hartford [for his promotion to Connecticut's first Director of Special Public Defenders], my successor called," having just received "totally exculpatory" evidence.
Tisdale testified at the fourth trial that he had never seen the new evidence. The prosecutor claimed he just didn't realize it was exculpatory. The judge agreed with Tisdale and granted the motion to dismiss the case.
"We saved this person from life imprisonment," Tisdale says. "But his life was smashed up. He lost jobs. He lost his fiancée. He was an emotional wreck after going through this terrible circumstance.
"I was involved with thousands of cases and I had well over 50 trials," Tisdale continues. Every time a person with no record is accused of a serious crime and faces major jail time and a not guilty verdict comes back – "you realize the difference you make in an individual's life."
Now, Tisdale says, "I'm looking to make a broader difference. I'm looking for systemic change."
Tisdale is bringing that core commitment to his new position as Board President. His vision for his year of service, however, is tempered by the departure next May of longtime executive director Paul Bland.
"Those are huge shoes to fill so that will occupy a great portion of my energies," Tisdale says. Public Justice does "such fabulous work, so, my vision is to strengthen its ability to deliver achievements."
"It's an honor to serve as President of the Public Justice Foundation," Tisdale says. "It's just an honor to work with so many fantastic attorneys, tremendously talented staff, and all of the supporters to achieve the mission of Public Justice."
For example, Tisdale notes, "our Debtors' Prison Project is doing fabulous work. When you look at it historically, it's not a new phenomenon. You can go all the way back during the post-slavery days when the former Confederate states initially developed convict leasing."
"Alabama was ground zero" for developing ways to "arrest as many formerly enslaved Blacks as they could find to work the mines, or in the fields. That idea has taken on a life of its own," Tisdale says. "Our Debtors' Prison Project is attacking one of the newest iterations of that same initiative."
Public Justice's collaboration with prominent trial attorneys throughout the country, Tisdale says, is also critical to "protect our ability to continue to undertake" projects such as the Class Action Preservation Project.
Tisdale also wants to heighten the organization's visibility in different states. "Public Justice can strengthen the work these attorneys do in a way that many of them don't realize."
Tisdale will continue the work of past presidents in increasing the organization's internal diversity. "I want to take that to another level where attorneys from different walks of life in the legal field can come to Public Justice," he says.
"These are deeply troubling times" for democracy, exasperated by an "astounding" level of ignorance that "becomes a fertile playground for those who have ill will or bad intentions," Tisdale says.
"I think a lot of Americans thought we were immune to [autocracy] — that all of our democratic mechanisms operate autonomously, that you don't have to do any work. They will self-correct. And that's wrong," he says. "When you can just press buttons and unleash bigotry or racism or homophobia or anti-trans thinking — people don't think deeply about these issues. They just go with what they know."
But Tisdale is encouraged by the angry awakening after George Floyd's murder. When average Americans saw it, "they were outraged….So, pressing that button is not so easy now. That is one aspect that gives you hope and optimism."
Born in New York in 1952 when his mother was visiting family, Tisdale was raised around Bridgeport, Connecticut. In school, he reveled in science while also training to be a concert pianist. In the fifth grade, he went to a young doctors program at Stamford Hospital.
But "the civil rights movement just captivated me. It represented such hope at those times. People don't remember, but even in a state like Connecticut, the degradation that was heaped upon African-Americans was constant, incessant and quite profound."
Tisdale's father and uncle headed the local NAACP Education Committee, his grandfather went to the 1963 March on Washington for Jobs and Freedom and his activist hero parents — Loyse and James — shared the civil rights movement with him, including meeting Freedom Riders and bringing him to hear Rev. Dr. Martin Luther King Jr. speak in Bridgeport, and other civil rights luminaries, such as NAACP attorney Thurgood Marshall.
Loyse Tisdale was a Korean War veteran who graduated from the University of Bridgeport with a degree in psychology. She became the first black legal secretary in Bridgeport and was later hired by the law firm of attorney Sam Friedman who, along with Thurgood Marshall, became famous in the film "Marshall," written by Tisdale's friend and law colleague, the late Mike Koskoff and his son Jake. Friedman and Marshall successfully defended Black chauffeur Joseph Spell, accused in 1941 of raping his white female employer in Greenwich, Connecticut.
"My parents were leading demonstrations and marches and people would get arrested so the lawyers at the ground level were critical to helping them to not be totally ground under by the criminal justice system," Tisdale says. He realized: "That's what I want to do. I want to make a difference."
When Tisdale went to Brown University in 1969, his father James, also an educator, also went to Brown as their first Black development/admission officer. "They never had a Black person in that role before. And then he went on to become the assistant to the president years later," Tisdale says.
Tisdale graduated from Brown in 1973, then went to NYU School of Law. Upon graduation, he joined the Koskoff firm. He left to spend 28 years in the Public Defenders Office, returning to Koskoff in 2010.
Tisdale is also currently part of the team in a four year old lawsuit brought by Tamara K. Lanier against Harvard University "alleging that the University was in wrongful possession of daguerreotype images…depicting two enslaved individuals, Renty and Delia, who she claims are her ancestors," according to the Harvard Crimson.
The case is explained in the documentary "Free Renty."
It is just one example of Tisdale's desire to impact the root causes of repetitive injustice and — as he hopes to also do while at the helm of Public Justice — create the "greatest level of transformative change."