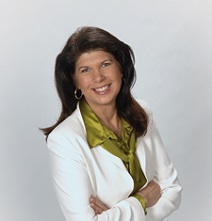 Gale Pearson
Gale Pearson grew up hearing her father, also an attorney, say: "If you don't have integrity, you don't have anything." Integrity for Pearson meant fairness.
As a young girl, she watched her mother take on causes for justice and admits that she felt embarrassed at times about her mother's strong passion. Over the years, however, she became proud of her mother.
Pearson was the eldest of five. When Pearson was a fifth grader, her brother who lived with disabilities was being bullied at school. Pearson stood up to the larger bully and scared him off.
"The relief in my brother's eyes, along with the feeling that I can do something without being afraid, had such an impact on me," she said. "I realized that no matter my size, I can speak out."
This is the moment she realized fighting for justice and fairness was nothing to be embarrassed about, and she uses this moment to push forward her career as a trial lawyer. She believes that corporations don't need any help. Individuals are less powerful and are the people she feels she needs to help.
As a senior partner with the law firm of Pearson, Randall & Schumacher, P.A., Pearson has focused on medical device and pharmaceutical litigation. She has represented thousands of plaintiffs against environmental polluters, the pharmaceutical and medical device industry, and fraudulent corporate practices. Additionally, she has served on science committees for several MDL litigations.
Particularly, she is proud of being lead counsel in a class action against Phillip Morris, Co., its parent company, and several others. The action sought to hold the tobacco companies accountable for marketing light cigarettes as a comparatively healthy alternative to other cigarettes, in full knowledge that they were not. This case involved certifying a fraud case as a class action, which is exceedingly rare.
As an individual in a two-person law firm going against 7 to 8 attorneys, it was difficult for Pearson to fight this case. She did not have the same amount of money as the tobacco companies – just her expertise and thinking. Her training as a clinical lab scientist naturally pushes Pearson to approach situations in more of a scientific way than a strictly legal one. Pearson disciplines herself to approach her cases logically to find causation prior to anything else, as she did in this case.
"We pulled out every possible document that tobacco companies knew they were deceiving," Pearson said of her methods trying to prove that Phillip Morris knowingly deceived customers. "I have a memory of spreading documents out across my living room floor."
The suit was successful in forcing Phillip Morris to include a "label onsert" on Marlboro Lights cigarette packages, specifically informing customers that they were no safer than regular cigarettes. "[The tobacco companies] were so successful in their marketing of these [light] cigarettes. This changed the conversation" going forward, Pearson said.
At the end of her career, Pearson hopes to be proud of the people she represented, the changes she made to society, and to continue to be surrounded with her colleagues who feel the same way she does about fairness and justice.
"My father is still practicing at the age of 77," she said. "I don't intend on stopping anytime soon."