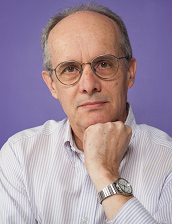 Education
University of Illinois College of Law
University of Illinois
Jim Hecker
Director, Environmental Enforcement Project
Jim Hecker, Environmental Enforcement Project Director at Public Justice, received an undergraduate degree with honors from the University of Illinois, and was a member of Phi Beta Kappa. Jim received his J.D., magna cum laude from the University of Illinois College of Law. He earned distinctions as a member of the Order of the Coif, and as editor of the Law Forum. During law school he interned with the Center for Law and Social Policy in Washington, D.C.
After serving as a law clerk for two years with U.S. District Judge Prentice H. Marshall in Chicago, he joined Terris & Sunderland, a Washington, D.C. public interest environmental law firm, as an attorney handling environmental citizen suits on behalf of national environmental groups, citizen groups, and other clients.
In 1990, Jim left private practice after 11 years to join Public Justice to re-establish and lead its Environmental Enforcement Project.
Recently, in 2009, he won the Sierra Club's William O. Douglas Award, which recognizes outstanding use of the legal process to achieve environmental goals, particularly those with national significance.
For nearly three decades, Jim has been fighting on behalf of local citizens, grass roots organizations, and national environmental organizations. In the 23 years that Jim has been with Public Justice he has litigated over 40 citizen suits in fourteen states under federal environmental statutes regulating clean air, clean water, hazardous waste, and coal mining.