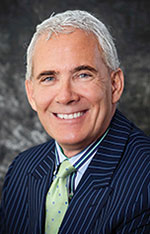 Patrick Perotti
When the Ohio Bureau of Workers' Compensation wrongfully demanded that thousands of injured workers turn over money they received from settlements, Patrick Perotti and a team of attorneys ensured that all of the injured workers received a full refund of their improperly held funds.
The case, Santos v. Ohio Bureau of Workers' Compensation, and related suits involved an arduous road to victory that took more than seven years and wound through Ohio's Cuyahoga County Court of Common Pleas, the Court of Claims, the Eighth District Court of Appeals, the Tenth District Court of Appeals, and Ohio Supreme Court. In the end, Perotti and his team recovered more than $52 million in the class action for more than 8,000 injured workers.  For their tenacity and hard work on the case, the attorneys were named finalists by Public Justice for the 2007 Trial Lawyer of the Year Award.
More recently, Patrick and a team of attorneys obtained a judgment against the State of Ohio for $864 million in refunds for more than 200,000 small businesses overcharged for worker's compensation premiums. The more than 5 years of litigation with appeals and several weeks of trials is known as one of the largest awards obtained.
All told, Perotti's judgments, awards and settlements in class actions total nearly $1 billion. But more important, as a class action, employment discrimination, and  civil rights attorney for more than 30 years, many of Perotti's cases have been precedent-setting. They have established significant rules and standards for protection of employee rights, such as allowing circumstantial evidence to be used as direct proof of employment discrimination, and establishing a public policy claim for whistleblowing. He has challenged large employers who failed to pay overtime wages to their employees, as well as employers who attempted to reclassify retail store managers as salary-exempt. He has taken on huge banks, telecommunications companies, retail chains, insurance giants and other which have cheated customers. His class litigation settlements and judgments in consumer cases alone total more than $120 million.
Perotti believes that his work on the case continues after he leaves the courtroom, making sure that money awarded for corporate wrongdoing is delivered to deserving hands. He has been instrumental in directing unclaimed class settlement monies to charities and non-profits via cy-pres awards. In July, 2008, his distribution of almost $14 million from a single case was the largest cy pres of its kind in U.S. history. In total, He has helped to distribute more than $25 million in cy-presawards to charities helping society on many issues, such as Muscular Dystrophy Association, Habitat for Humanity, Cystic Fibrosis Foundation, MADD, Big Brothers Big Sisters, Legal Aid Society, Leukemia Society, and the Boys and Girls Clubs, among more than 100.
Perotti speaks frequently on employment law, class actions, and cy pres, and has made many media appearances on these issues. He has also authored a comprehensive treatise on the ADA, the FMLA, and the interaction between those laws and workers' compensation programs. He received the American Bar Association, Section of Labor and Employment Law Award for significant contributions to the advancement of law on the Family and Medical Leave Act.