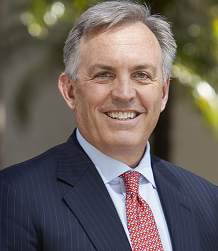 Timothy Blood
What keeps Timothy Blood inspired is simple: his career allows him to make others' lives better. Without hesitation, when asked what he hopes to say he's been able to accomplish as the end of his career as a successful trial lawyer, Tim says, "I hope I can look back and say that I helped to make some group of people's lives at least a little bit better than they were before."
Tim is certainly doing what he has set out to accomplish. Tim is the managing partner of Blood Hurst & O'Reardon, LLP; the firm has been a Benefactor member of Public Justice for over 7 years. Specializing in nationwide prosecution of complex class and representative actions, the firm prides itself on litigating cases to achieve results which really make a positive difference in the lives of individuals, and society as a whole. Tim notes that this is in alignment with Public Justice: "The battles we face every day are the very same issues that Public Justice focuses on . . . Public Justice is right there fighting to improve the civil justice system in the same way we are."
Tim has extensive experience litigating against life, auto, and other insurance carriers on behalf of consumers, and cites his victories in this area as what he is most proud of. Tim says, "Whenever I have a case and I get unsolicited feedback from class members that's positive, that's when I know for sure the case was a great result for people."  These cases can really make a difference, when corporations are preying on consumers who are already struggling to make ends meet.
For example, in cases against Farmers Insurance Group, Inc. and State Farm, Tim represented consumers who were over-charged for their auto insurance. After the settlements in which the installment payments were corrected and the consumers were refunded, several class members reached out to let Tim know how grateful they were. "It was great, the reaction people had to the settlement . . . it was something that really affected people."
Tim has also represented owners, holders, and beneficiaries of industrial life insurance in race discrimination cases. In the industrial life insurance cases, it was found that the class members, who purchased small dollar life insurance policies, were being charged higher premiums because they were African American. Tim says, "The policies were incredibly important to the people who held them – it was a way to make sure that when they passed away, their family members would not be burdened with additional costs. . . when they found out there was racial disparity, people were outraged." This was another case in which many of the class members were thankful for the resolution, illustrating for Tim how the cases he litigates make a difference in the lives of many.
When Tim isn't working, he enjoys spending time with his family. Tim is involved in his children's baseball league, which makes a concerted effort to bring kids of various socioeconomic statuses together to play. Tim says, "This provides an opportunity to get everyone involved, working toward one goal." Over the years, Tim has seen the team can be very effective in breaking down barriers, and helping people understand each other just a little bit better.
All of this is why we're proud to have Tim and Blood Hurst & O'Reardon, LLP on our team, working to combat social and economic injustices and advocate for the public interest.