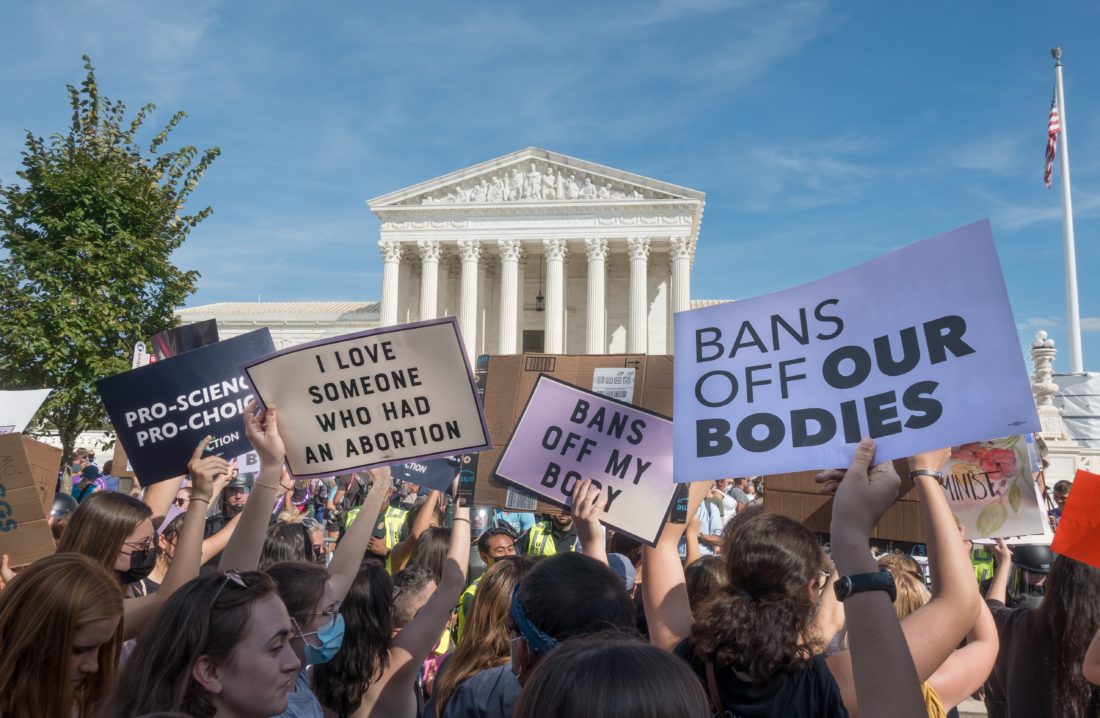 Public Justice Statement Supporting Abortion Access for All
The Supreme Court has made a series of dangerous decisions that appear to be aimed at undoing the constitutional right to abortion. If the Court continues in its current direction, Roe v. Wade will be completely undermined – or even explicitly overturned – in the coming months.
For almost 50 years, the Supreme Court's decision in Roe v. Wade recognized a person's fundamental right to abortion. However, legal efforts to undermine abortion access for those who need it has effectively put millions of peoples' rights, autonomy, health, and lives at risk. The Court's recent refusal to enjoin Texas's infamous abortion restriction law (SB 8) has given the green light to other states seeking to enact similar restrictions. And if the Supreme Court accepts Mississippi's argument that it should overturn Roe v. Wade, Americans everywhere will be in grave danger.
Today, and every day, we support every person's freedom and ability to determine if and when to have children. That's why Public Justice supports the Women's Health Protection Act (S.1975), which would protect access to abortion against state-level bans, as well as protecting patients from medically unnecessary restrictions and limitations that seek to prevent a person from choosing to have an abortion.
We believe the right to abortion is a fundamental, human right. Every person should have the ability to choose when and how they want to start or grow a family, free from legislative interference. And legal restrictions on abortion disproportionately impact communities of color, LGBTQ communities, people with disabilities, and other individuals who are already faced with systemic barriers and discrimination that have cemented existing inequities in their access to health care.
Since it was first founded, Public Justice has worked to ensure all people have complete autonomy over their bodies.
"Abortion access is integrally connected to Public Justice's civil rights work," said Adele Kimmel, Students' Civil Rights Project Director. "There is a profound connection between our clients' rights to choose how, when, and with whom to be sexually intimate and their ability to decide how, when, and with whom to have children. Gender violence is a direct threat to the reproductive freedom of survivors, and the ability to access an abortion after a rape can be critical for their physical and mental health, as well as the opportunity to determine the course of their life."
Roe v. Wade itself was built upon a series of U.S. Supreme Court cases concerning the substantive due process right to privacy, including Griswold v. Connecticut, which recognized the right of married couples to use contraception. These longstanding decisions form the legal foundation of critical constitutional protections against discrimination and gender violence. Roe's landmark ruling enabled the Supreme Court to advance LGBTQ equality in decisions like Lawrence v. Texas, United States v. Windsor, and Obergefell v. Hodges. Overturning Roe could not only put the earlier cases like Griswold at risk but jeopardize later cases protecting LGBTQ rights as well, Kimmel said.
With abortion access under serious threat, we are proud to join our allies in the fight for reproductive justice, so intrinsically tied to our work in upholding Americans' fundamental privacy rights and access to justice.
We thank House Representatives for passing WHPA, and we urge the Senate to follow in its footsteps and swiftly pass legislation that will address the current attacks on abortion rights and ensure no one is denied abortion access no matter where they live.
Join us and urge your Senators to pass the Women's Health Protection Act (WHPA) of 2021 (S.1975) today! Find out who your Senators are here, send a message, or call the Capitol switchboard at (202) 224-3121. You can also send a pre-written or customized message to Senators here.