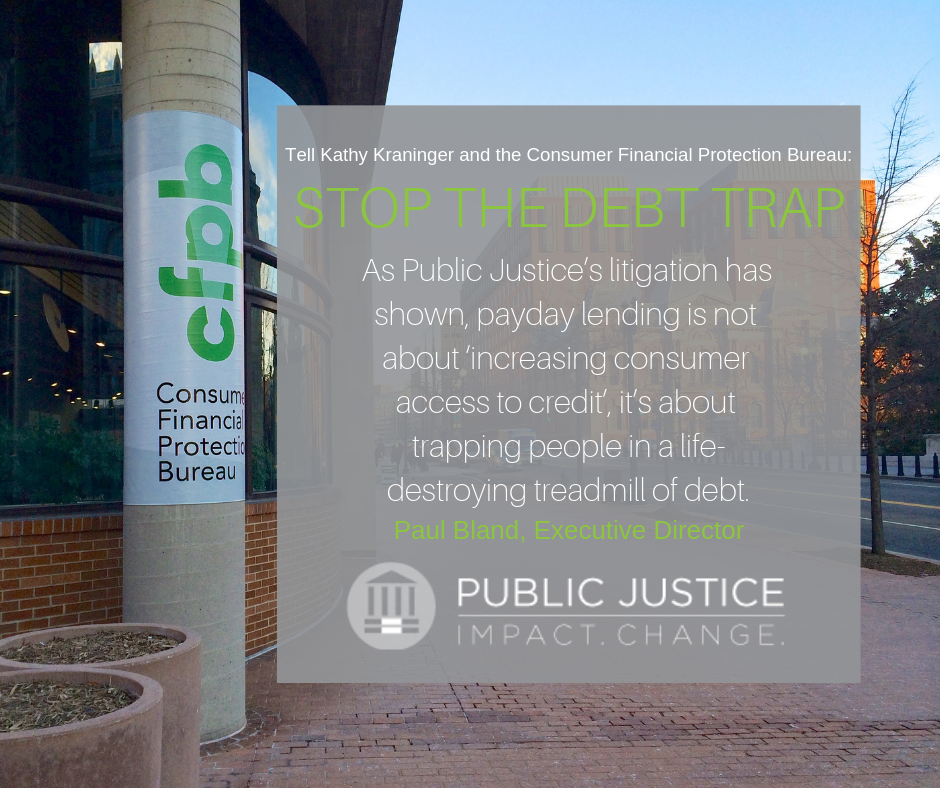 Public Justice Executive Director Paul Bland's Statement On CFPB Rollback Of Consumer Protection Against Payday Lending
On February 6th, the Consumer Financial Protection Bureau announced their plan to dispose of rules put in place to protect consumers from predatory lending. The 2017 rule requires lenders to determine whether or not someone has the ability to repay a high-interest loan without getting in further debt before giving them the loan. This is proof that, as we feared, CFPB Director Kathy Kraninger will follow in former interim director Mick Mulvaney's footsteps by taking apart one of the most important institutions for protecting consumers.
The CFPB will be accepting comments for the next three months. This is the time to tell Kathy Kraninger and the CFPB to fulfill their role by protecting consumers and to #StopTheDebtTrap.
Public Justice Executive Director Paul Bland had this to say:
Kathy Kraninger's CFPB has acted to undermine one of the most effective government actions for economic justice in recent years – that agency's rule to protecting consumers from some of the most abusive practices of payday lenders. As Public Justice's litigation against the industry in a half-dozen states has shown, payday lending is not about 'increasing consumer access to credit', it's about trapping people in a life-destroying treadmill of debt.