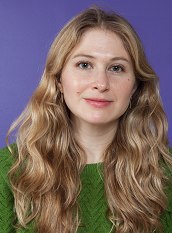 Alexandra Brodsky
Staff Attorney
Alexandra Brodsky is the Staff Attorney at Public Justice. She litigates cases concerning civil rights abuses in schools and the criminal legal system with Public Justice's Students' Civil Rights Project and Debtors' Prison Project. Alexandra's recent and ongoing cases include:
Doe v. Fairfax County School Board, in which Alexandra successfully argued an appeal in the U.S. Court of Appeals for the Fourth Circuit concerning Title IX's "actual knowledge" standard, resulting in a powerful opinion ordering a new trial for a student victim of sexual assault
Carter v. City of Montgomery, a suit against public and private actors who engaged in a systemic practice of jailing low-income municipal court defendants too poor to pay traffic tickets and other fines
Doe v. Gwinnett County School Board, a suit on behalf of a girl of color suspended by her high school after she reported that she had been raped by a white classmate
K.R. v. Duluth Public Schools Academy, a suit on behalf of Black children subjected to discriminatory discipline and a racially hostile environment at a public charter school
Hyman v. Devlin, an appeal in the U.S. Court of Appeals for the Third Circuit in which Alexandra and co-counsel defended a jury verdict against a police officer who unconstitutionally assisted a private debt collection through threats of violence
The Women's Student Union v. U.S. Department of Education, an Administrative Procedure Act challenge to key portions of the Title IX sexual harassment regulation promulgated by the Trump Administration
Doe v. Crestwood School District, an administrative complaint against a Pennsylvania school district on behalf of a child subject to harassment and discriminatory discipline based on their gender identity
Before joining Public Justice, Alexandra clerked for the Honorable Marsha S. Berzon of the U.S. Court of Appeals for the Ninth Circuit and worked to end discriminatory school push out at the National Women's Law Center, where she was a Skadden Fellow. During and before law school, she served as a senior editor at Feministing.com and founding co-director of Know Your IX, a youth-led organization combatting gender violence in schools. For her work on sexual harassment, she received a Ms. Wonder Award from the Ms. Foundation and was named to POLITICO Magazine's "50 Thinkers, Doers, and Visionaries" and Forward Magazine's Forward 50.
Alexandra received her B.A. from Yale College and her J.D. from Yale Law School, where she received the Charles G. Albom Prize for excellence in appellate advocacy and the Reinhardt Fellowship for public interest law.
Alexandra is the author of Sexual Justice: Supporting Victims, Ensuring Due Process, and Resisting the Conservative Backlash (Metropolitan Books/Henry Holt 2021) and the co-editor, with Rachel Kauder Nalebuff, of The Feminist Utopia Project: 57 Visions of a Wildly Better Future (The Feminist Press 2015). She has written for publications including the New York Times, the Washington Post, the Nation, the Atlantic, the American Prospect, and Dissent. She is also the author of A Tale of Two Title IXs: Title IX Reverse Discrimination Law and Its Trans-Substantive Implications for Civil Rights, U.C. Davis L. Rev. (forthcoming, with Dana Bolger and Sejal Singh); Against Taking Rape "Seriously": The Case Against Mandatory Referral Laws for Campus Gender Violence, 53 Harv. C.R.-C.L. L. Rev. 131 (2018), "Rape-Adjacent": Imagining Legal Responses to Nonconsensual Condom Removal, 32 Colum. J. Gender & L. 183 (2017), and A Rising Tide: Learning about Fair Process from Title IX, 66 J. Legal Educ. 822 (2017).
Alexandra is admitted to practice law in the District of Columbia and New York.