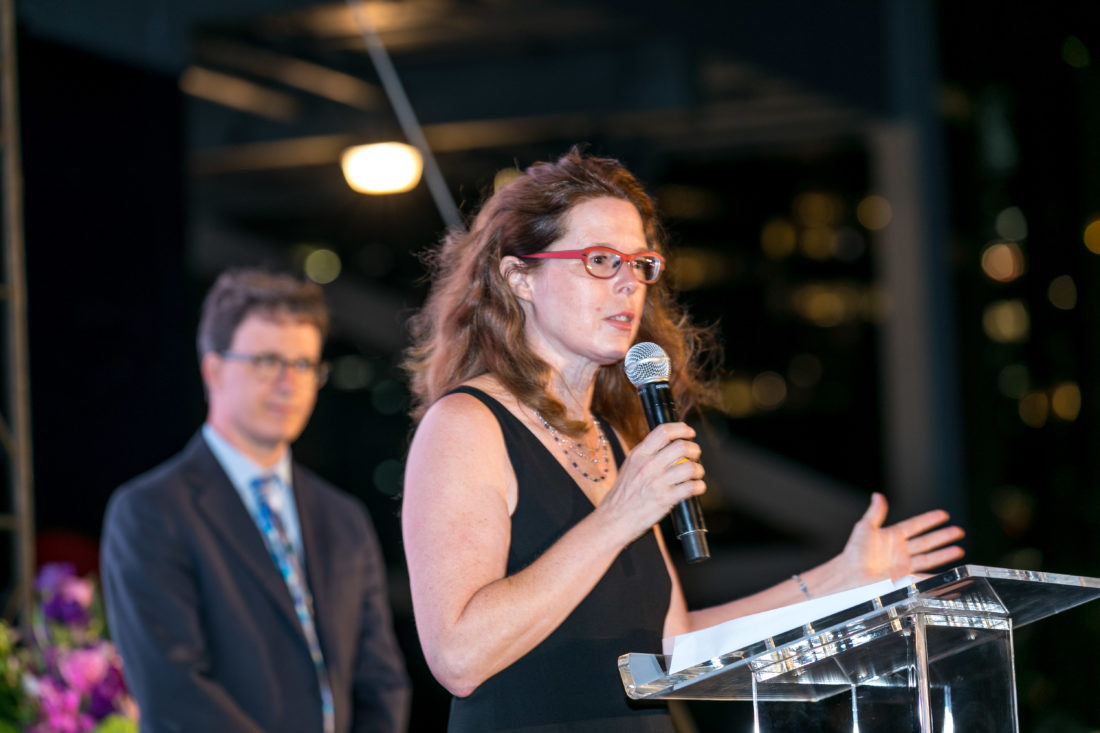 Beth Terrell Named Public Justice President
The new president of Public Justice, Beth Terrell, knew even before she started her legal education that she wanted to use litigation to promote justice for those in the greatest need. Growing up on a farm in Idaho, Terrell developed an independent streak and a strong work ethic that she has consistently directed towards helping others. Out of college, Terrell worked at a homeless support phone-line in the Bay Area, as well as the Dallas chapter of the American Civil Liberties Union. While at those organizations, she observed the difficulties non-profits faced in keeping their offices afloat and funding their work to support those in need.
"It was increasingly frustrating to see resources and services—especially those for poor and underrepresented people simply disappear. Their lifelines vanished when the money ran out. My hope was that if I went to law school, I'd be better equipped to try to increase those resources and directly provide access to justice to those who need it most," Terrell recalls.
After graduating from UC Davis School of Law, where she chaired the school's public interest law group, Terrell dedicated her career to helping employees and consumers get justice from large corporations. One of her earliest and biggest successes was in Barnett v. Wal-Mart Stores, Inc., where after eight years of litigation she and her team achieved a $35 million settlement for over 80,000 Washington Wal-Mart employees who suffered wage and hour violations. The case also gave Terrell an early introduction to coalition building, as her team in Barnett coordinated with other lawyers across the country who were suing Wal-Mart and facing similar issues. "To me, it was very helpful early on to have the experience of working with a group of brilliant lawyers who together were able to force real change at a giant company," says Terrell.
Working with other groups of attorneys has been a key part of her career at the public interest firm she co-founded with Toby Marshall and Jennifer Murray, Terrell Marshall Law Group. Terrell notes, "We're a small firm: the only way we can sue big, well-funded defendants is to band together with other like-minded firms and non-profits, including Public Justice. Consciously establishing teams so that each member can bring his or her strengths, talents, and experience to the table is the only way we can come close to leveling the playing field. For example, my first real experience with Public Justice was seeking its help to defeat an arbitration clause in a defective product case. Adding Paul Bland and Leslie Bailey to our team changed the dynamic; we beat the arbitration clause and negotiated a favorable settlement for the class."
Terrell first joined Public Justice in 2002, and was recently a member of the team behind our "Yakima Dairy" cases, which won the 2016 Change Maker award. Those cases led to a settlement in which four Washington State dairies agreed to make sweeping changes to stop the contamination of drinking water. As Terrell says, "It was an incredibly compelling case: working with brilliant lawyers, including Public Justice Food Project Director Jessica Culpepper, on cutting-edge theories to get people clean drinking water. What could be better than that?"
Along with fellow Board Member Janet Varnell, Terrell Marshall funds Public Justice's Seneca Falls fellowship for female attorneys. Terrell has consciously focused her legal career on representing and empowering women, including both female clients and fellow female litigators. Terrell Marshall has thirteen attorneys and 70% of them are female. "We strive to recruit and retain talented female attorneys, not only because it's the right thing to do, but because having a diverse workforce spurs creativity and productivity. But that commitment to gender equity requires re-thinking the traditional law firm model by embracing workplace flexibility so employees can juggle competing demands."
Terrell hopes to continue her focus on promoting and supporting female litigators as President. "During my tenure I hope to do more things like the Seneca Falls fellowship to help normalize the presence of female attorneys at the highest levels of litigation. I want the presence of brilliant attorneys like Public Justice Staff Attorney Jenn Bennett at the United States Supreme Court and Public Justice Senior Staff Attorney Leslie Brueckner at the California Supreme Court to be routine."
"Beth has long been an important partner to the Public Justice team, as an officer and leader on our Executive Committee, and as a central player in our strategic planning.  Beth has also been co-counsel in several cases, donated generously for us to have some young attorneys work here as fellows, and as a close friend. Now, I am excited and honored that she will be our President – this is an important time in the organization's history, and I'm looking forward to having her wise advice, her boundless energy and guidance in the year ahead," said Executive Director Paul Bland. "As Public Justice grows and its mission becomes more critical and more important to diverse communities across the country, Beth is the perfect champion to help us maximize our impact and create real, lasting change."
Out of the office, Terrell loves gardening and the outdoors. She recently returned from a cycling trip in the Pyrenees, where she witnessed up close some of the mountain stages of the Tour de France.